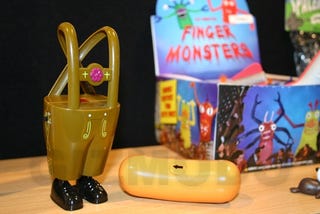 Actually, these remote-controlled hopping lederhosen aren't that stupid. Pressing the button on the knockwurst remote [insert dick joke here] sends them into a convulsion of bouncing and yodelling for about 15 seconds, after which they shut off automatically. Okay, maybe they are kind of stupid. Sadly, I don't any video for you.
Enjoy a few more "stupid moving toys" after the jump, so named because they don't really do anything but move around in a limited fashion.
After you give the Racing Nun a few runs on a table to wind her up, she speeds away to chase heretics. That's about it. I would've been more enthralled if she carried a ruler, kind of like the next toy, the Fighting Grandad.
Same concept as the Racing Nun—wind it up, send it off—but the Fighting Grandad swings his cane to beat down any young whippersnapper in his way.
Finally, we have the pole-dancing stripper, which spins around the pole while lights along the front flash on and off. So it's like being at a real strip show, except not at all. Be sure to add one to your favorite godchild's Christmas list!
Toy Fair 2007 [Gizmodo]