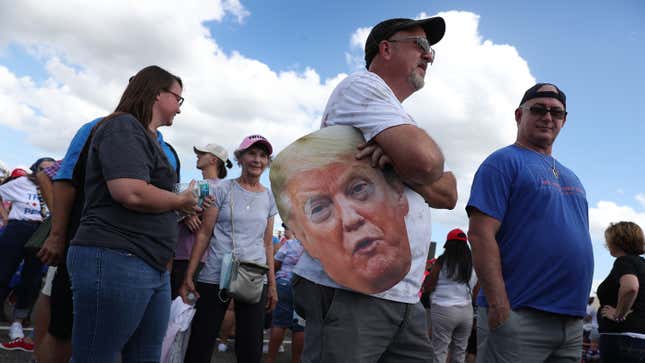 The Justice Department released—and later retracted—a statement on Thursday saying it had opened an inquiry into the discarding of nine military ballots cast for President Trump in Luzerne County, Pennsylvania. The notice vanished from the DOJ's website hours later only to be replaced by a "revised statement," clarifying that two of the nine ballots are in sealed envelopes.
Apple's Vision Pro Seems Powerful, But Who Is It For? | Future Tech
The correction came roughly two hours after a Trump campaign spokesman, Matt Wolking, falsely claimed on Twitter that the inquiry was evidence "Democrats are trying to steal the election." Neither the original DOJ press release nor the revised statement alleged any intentional wrongdoing on election officials' behalf. (DOJ said it expects to share an update about the inquiry later today.)
[Update: Wolking deleted his claim on Thursday night after it had received over 20,000 retweets and nearly 30,000 likes. See additional updates about the investigation at the bottom.]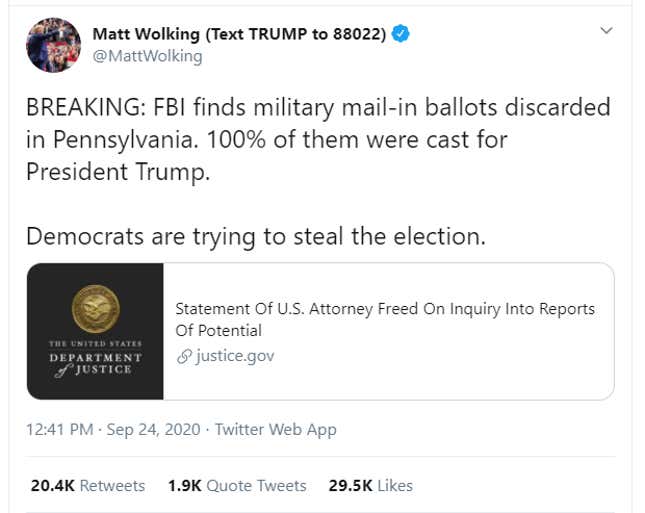 The U.S. attorney's office for the Middle District of Pennsylvania, leading the inquiry alongside FBI, refused to say what led to the inaccuracy in its initial statement and did not respond when asked if the ballots were cast in the general or a primary election.
The timing of the announcement is unusual. Typically, Justice officials do not publicize ongoing investigations unless and until charges are brought.
The FBI referred Gizmodo back to the DOJ.

Wolking, after claiming there was a criminal conspiracy afoot, then lashed out at two reporters—including this one—who noted that the inquiry into "reports of potential issues with a small number of mail-in ballots" did not qualify as evidence of massive voter fraud.
Trump has repeatedly claimed, without evidence, that mail-in voter fraud is rampant, which is a lie.
CNN reporter Abby Phillips, quoting the government, noted the "small number" of ballots on Twitter. "Investigation ongoing into what this is all about, but again, this is not evidence of widespread voter fraud," she wrote.
Wolking then fired back, accusing Phillips of dismissing evidence of "voter suppression targeting U.S. service members," a charge no government official has made.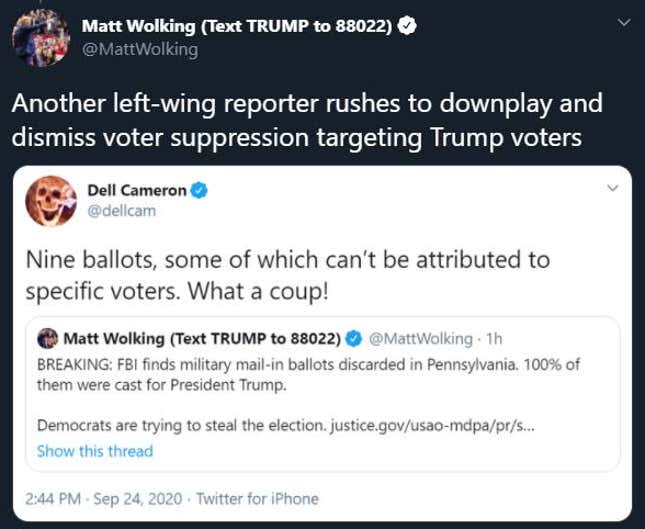 Wolking also accused this reporter of "[rushing] to downplay and dismiss voter suppression targeting Trump voters," for mentioning the number of ballots; something Wolkins had told his followers.

Luzerne County voters cast a total of 135,901 ballots in the 2016 presidential election. Trump won the county with 58 percent of the vote. He received 26,237 more votes than Hillary Clinton.
The Trump campaign did not respond to a request for comment.
Wolking, who recently slammed Rep. Adam Kinzinger, a Republican of Illinois, for disparaging QAnon—a conspiracy theory asserting Trump is secretly fighting a classified war against a global network of Satanic pedophiles—was hired by the Trump campaign in March 2019 to lead an "aggressive rapid response team, refuting attacks and exposing the fake news media."

Trump came under fire on Wednesday for refusing to commit to a peaceful transfer of power if the election does not end in his favor.
After a White House reporter pressed Trump over evading the question, Trump replied, "We're going to have to see what happens." He then suggested that certain ballots needed throwing out.
"We have to have—get rid of the ballots and you'll have a very trans—we'll have a very peaceful—," Trump said. He then said, "There won't be a transfer, frankly. There'll be a continuation."
The Trump campaign has repeatedly insisted, all evidence to the contrary, that absentee votes are being stolen or fabricated and that Democrats are planning to "rig" the election. FBI Director Christopher Wray, testifying before a Senate panel on Thursday, refuted the president's lie, saying there is no evidence of any widespread mail-in voter fraud.
"We have not seen, historically, any kind of coordinated national voter fraud effort in a major election, whether it's by mail or otherwise," Wray told the Senate Homeland Security and Governmental Affairs Committee. He added that voter fraud on a local level happens "from time to time."
In June, a Washington Post analysis of data collected from three vote-by-mail states—Colorado, Oregon, and Washington—found election officials had only flagged 0.0025 percent of ballots for further investigation.
Update, 9/25: David Freed, U.S. attorney for the Middle District of Pennsylvania, released a letter Thursday night addressed to Shelby Watchilla, director of the Luzerne County Bureau of Elections.
According to Freed, the election staff told the FBI that the envelopes containing the military ballots are so similar to those containing mail-in ballot requests, they believed "adhering to the protocol of preserving envelopes unopened would cause them to miss such ballot requests."
"Our interviews further revealed that this issue was a problem in the primary election—therefore a known issue—and that the problem has not been corrected," Freed wrote.
The letter says the FBI conducted "numerous" interviews and gathered "physical evidence," documenting that Luzerne election staff discarded a total of nine military ballots. Seven of the ballots, cast for President Trump, were found outside the envelopes bearing the voters' personal information. Investigators could only rejoin one ballot with its proper envelope. As such, the remaining six cannot be ascribed to any specific voter, even if they are counted.
The election staff recovered two other discarded ballots and resealed them inside "what appeared to be their appropriate envelopes," according to Freed. For whom the two votes have been cast is unknown.
A copy of the letter is available here.