This morning, Amazon announced that the online retailer had plans to hire 100,000 new full time employees over the next 18 months. And Donald Trump didn't waste any time taking credit for the announcement. This, despite the fact that Trump had previously threatened to break up the company with antitrust laws, and even called it a "big tax shelter."

"The president-elect was pleased to play role in that decision," Trump's incoming press secretary Sean Spicer told reporters on a phone call about the Amazon announcement.
Amazon has done nothing to indicate that the new hiring plan was a result of anything said or done by President-elect Trump. But that's irrelevant, obviously. Donald Trump, more than any sitting president to come before him, will take credit for literally anything.
Curiously, Trump wasn't always so fond of Amazon. After The Washington Post covered his many scandals, Trump would often whine at campaign rallies and on TV shows about how Bezos was biased.
"He owns Amazon. He wants political influence so Amazon will benefit from it. That's not right. And believe me, if I become president, oh, do they have problems. They're going to have such problems," Trump said at a rally in February of 2016.
G/O Media may get a commission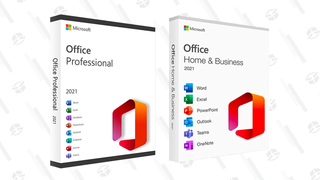 89% off
Microsoft Office Professional 2021 Lifetime License
Trump also said a few months later that if he became president, Amazon would face antitrust actions and that he'd tax Amazon, "like they should be taxed."
"[The Washington Post] is owned as a toy by Jeff Bezos who controls Amazon," Trump told Sean Hannity back in May. "Amazon is getting away with murder tax-wise. He's using The Washington Post for power so that the politicians in Washington don't tax Amazon like they should be taxed."
Trump also explained that Bezos dislikes Trump because he, "thinks I would go after him for antitrust because he's got a huge antitrust problem. [...] What he's got is a monopoly and he wants to make sure I don't get in."
Aside from what was printed in The Washington Post, Amazon CEO Jeff Bezos was highly critical of Trump before he won the presidential election. He even said that he'd be willing to shoot Trump into space in a December 7, 2015 tweet about his Blue Origins rocket company.
But Bezos attended a meeting at Trump Tower last month (begrudgingly) and we can now see why that was such an important photo-op for the president-elect. Trump would take credit for the sun rising each morning.
It could not be confirmed by press time whether the president-elect does, in fact, make the sun rise each morning.