The Trump regime has found it hard to find people in tech who want to work for the White House. That's probably because Trump has systematically dismantled the rights of Muslims, immigrants, and just about every other minority group in the United States. But Trump and his cronies aren't giving up. The White House is reportedly meeting with executives from Amazon, Google, and Microsoft today to ask that those companies to make it easier for tech workers to do a "tour of duty" in government.

The news comes from a report in the Washington Post, which notes that even during normal administrations it's been difficult to lure tech workers to government jobs. People who work in tech can generally find better paying work in the private sector. And other factors, like the need to pass background checks to obtain security clearances, makes government work much less desirable than a comparable job at companies like Google.
But people inside the Trump regime know full well that working for such a despicable character isn't very enticing, which is why insiders are reportedly positioning the job as a way to help whoever replaces Trump in the future, too.
"This event on Monday is not just about our efforts, it's about our successor, and their successor after that," one anonymous official told the Washington Post. "It's good for the country in the long term for technology professionals to have civil service in their career at some point."
And while it's true that civil service is generally seen as an admirable pursuit, it's hard to make a moral case for helping President Trump. Trump has been the most anti-science president in modern history, sometimes proclaiming that climate change is a hoax invented by the Chinese. And that's to say nothing of Trump's racism, his misogyny, and his baby jails.
G/O Media may get a commission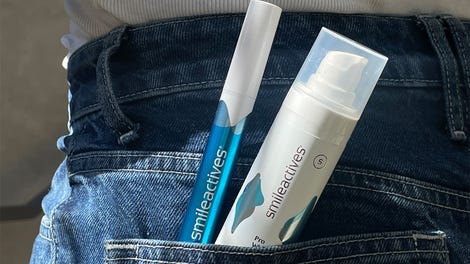 58% off
Whitening Powerhouse Pen & Gel Duo
Gizmodo has reached out to Amazon, Google, and Microsoft, but only Google responded simply to confirm that the company would have representatives at today's meeting. Google did not respond to a question about who would be there.
Almost two years into his administration, President Trump still hasn't appointed a head to the White House Office of Science and Technology Policy. But he has appointed three different members of his private club, Mar-a-Lago, to senior positions in his government, and reportedly has plans to nominate a fourth.
Trump's meetings with tech leaders have generated plenty of negative headlines, but it appears that playing nice has had its benefits. Apple, for instance, had CEO Tim Cook pose for photos with Trump as though the aspiring authoritarian leader was just like any other normal president. Apple had recently received promises that its iPhones wouldn't be hit by Trump's tariffs on China. Apple and others really love Trump's corporate tax cuts.
President Obama also found it difficult to entice tech workers to come work for him. But again, that was normal, and it appeared to have much more to do with money than those workers having ethical qualms with helping Obama further his goals. President Trump has started America down a path of authoritarian rule that could make anyone who works for him an accomplice.
If you're thinking of going to work for Trump, just remember the Nuremberg rule: "I was just following orders" isn't a defense.