Donald Trump rallies almost always devolve into autograph-signing sessions. And many of those signed items are showing up on eBay. A wide variety of Trump-signed items are just a click away, if that's the kind of kinky shit you're into.

Like this Bible, autographed by Trump, which is going for $3,500:

The only bible signed by Trump I have ever seen. Ths bible is unused and has new crisp pages and is unmarked. Signed by Mr. Trump in the historic Exeter NH town hall. No box for bible. Leather bonded NIV study bible.
Or this camo hat, which is currently priced at $2,000:

This is a one of a kind rare iconic autographed Official Donald Trump "Make America Great Again, Cap". This was signed on the campaign trail by Donald Trump himself on his first political campaign rally in the state of Florida At his exclusive Doral property.
G/O Media may get a commission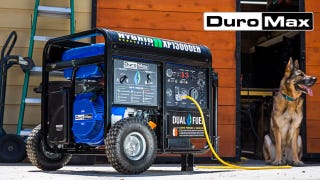 Black Friday Sale
DuroMax Generator Sale
The photo at the top of this post is provided in the listing as proof that this hat was actually signed by Trump himself.
And then there this guitar, which is currently being offered for 1,274 American dollars, and is quite a find.

Here we have 2017 Presidential candidate DONALD TRUMP Autographed Brand New Full Size AMERICAN FLAG Telecaster Guitar!!! You will not find another Trump autographed guitar like this one!! This is a must have for any Trump fan! This makes a great gift for a birthday or the holidays!! Check out the picture of Trump signing!!
The funny part? Yes, that's Trump's signature. But it's not a Telecaster. Fender owns the trademark on the Telecaster. That's something called an Eleca guitar—a knock-off made to look like a Telecaster body.
Want to wallop the deficit? This country doesn't punch anymore. Well, at least they don't outside of Trump rallies. But you can change all that with this autographed boxing glove, currently going for the low low price of $1,200.

People are offering all kinds of certificates of authenticity, but the most common authenticator on eBay are the press photos that show up afterward. The listing for this boxing glove tells quite a story:
MR. PRESIDENT DONALD TRUMP

HE WAS IN JACKSONVILLE,FLORIDA SATURDAY OCT.24 2015

YOU WILL GET THE AUTHENTIC EVERLAST LEFT HAND GLOVE SIZE 14

SIGNED

THE JACKSONVILLE PAPER,THE WALL STREET JOURNAL

AND ALL OF THE PHOTO'S

THE GLOVE IS SIGNED BY HIS BLUE SHARPIE

LOOK AT PHOTO # 4 AT THE FAR RIGHT HAND SIDE I'AM STANDING NEXT TO THE NICE OLDER LADY WHICH IS IN THE NEWSPAPER PHOTO,YOU CAN SEE THE RED GLOVE THERE I'AM HOLDING IT IN MY RIGHT HAND

PHOTO # 7 SHOWS MR. TRUMP COMING TOWARDS ME WHILE I'AM HOLDING THE BOXING GLOVE

PHOTO # 8 MR.TRUMP IS GETTING CLOSER

PHOTO # 9 MR.TRUMP IS IN FRONT OF ME SIGNING THE GLOVE YOU CAN HIS BLUE SHARPIE AND NEXT PHOTO SHOWS JUST A LITTLE OF THE GLOVE

PHOTO # 10 SHOWS ME AND THE NICER OLDER LADY STANDING NEXT TO ME

PHOTO # 11 IS THE WALL STREET JORUNAL WHICH YOU WILL GET

PHOTO # 6 SHOWS THE WALL STREET JOURNAL IN FRONT OF MR.TRUMP AS HE'S SPEAKING AT THE PODIUM

HE SPOKE ABOUT THE WALL STREET JOURNAL AND THREW IT DOWN

AND I HAVE THAT PAPER,ITS ALSO MENTION IN THE JACKSONVILLE PAPER THAT HE THREW IT DOWN ON THE CONCRETE

THIS IS A NICE COLLECTION OF MR.TRUMPS MEMORABILIA WHICH ALL IS WELL DOCUMENTED.
And there are countless signed copies of Playboy, Time and other magazines.
The $100 bills are also asking for a pretty penny, including this one which can be yours for just $895:
DONALD TRUMP SIGNED 100 DOLLAR BILL WAS SIGNED IN JACKSONVILLE FLORIDA DURING A RALLY STOP. WILL PASS ANY AUTHINCATION We obtain all autographs in person. We stand by all our items.
Of course, there are some Trump signatures that you just can't put up on eBay:
But if Donald Trump isn't your guy, there's currently a fire sale of Jeb Bush-autographed items on eBay right now. Like this baseball signed by Jeb himself, currently on offer for $13.49.

Poor Jeb[!].

---
Contact the author at novak@gizmodo.com.