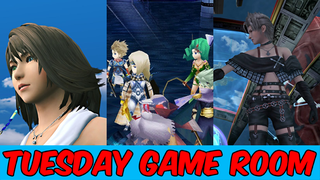 Three Final Fantasy titles are out this week — and none of them are actually new. Will you be returning to the worlds of Final Fantasies X and IV this week? Or dipping into a myriad of other games? Talk about it in this week's edition of Tuesday Game Room!
What have you been playing this week?
I've been continuing to play Star Wars: The Old Republic, with my Jedi Knight hitting level 43 rather rapidly thanks to the game's Experience boost that lets you basically solely play the story content rather than grinding out levels through side-missions. It might actually be the best way to play The Old Republic, in all honesty. I'd not dabbled too much in the Jedi Knight story before, and it's an interesting enough yarn of lightsabers and impending doom to keep me hooked. With this story boost I might even try out some classes I've not really touched before, just to get their unique story content too.
New Releases!
It's a small week outside of the trio of Final Fantasies. First up is Final Fantasy IV: The After Years, a follow up to the classic RPG that is heading the PC with a 3D update. The other two come together as the PS4-exclusive Final Fantasy X/X-2 HD Remaster, an update of the PS3/Vita remaster released last year. Remasters are getting remasters these days!
Meanwhile, the PS4 and Xbox One get Project Cars following its PC release last week, the PC and PS4 see the release of Toren, and the Sony platforms get Ultratron as a cross-buy title. Finally, the 3DS gets a digital only release of Attack on Titan: Humanity In Chains, based on the hit anime/manga series.
And now, the News

Once again it's time for a few select picks from the last week of Gaming news, via Eurogamer:
We'll be back this time next Tuesday for more gaming discussion, but for now, sound off in the comments with the games you've been playing, and what you're looking forward to this week - and don't forget to join the unofficial io9 community group on Steam!
---
You're reading Toybox, io9's blog for all things pop culture. From merchandise to awesome fan creations, TV recaps and critical commentary on the hot topics of the day, you can find it all here!