When Syfy's Superman prequel show Krypton was first announced, everyone thought it was going to be a basic trip back into the past of Superman's origin story before his homeworld went kablammo. It's still that, of course but its Comic-Con panel just revealed that how we get to Jor-El shooting a baby into outer space is going to be so much weirder than you would've guessed.

Ready for this? Krypton—set in its own branch of DC continuity for reasons that are about to become incredibly clear—is not fully set in the past. In fact, its overarching premise is rooted in the present: because DC heroes Adam Strange and Hawkwoman will be major characters in the series, sent by a mysterious figure back in time on the biggest missions of their lives: return to the years before Krypton's destruction and safeguard the bloodline of Superman, the House of El, from villains also sent from the present who want to erase Superman by altering the course of history.
Yeah.
The El family members that Adam and Hawkwoman meet on their time-travel journey are not exactly in the best place, however. Seg-El, Superman's grandfather (Cameron Cuffe), finds himself on the outs; his House has basically collapsed, and he's even been stripped of its coat of arms—of course the iconic "S" emblem that his grandson will later wear as his own superhero emblem. With the help of Adam Strange and Hawkwoman, Seg-El has to relearn the legacy and hope of his fallen House, before time-traveling interlopers destroy it and his grandson's future for good.
Geoff Johns moderated the panel with some of the show's cast and production team. Series lead Cameron Cuffe was there, along with showrunners Damian Kindler and Cameron Welsh. Cuffe told the audience that he's been a comics fan for a long time, saying that he grew up watching old-school DCAU cartoons like Justice League Unlimited and Batman Beyond. He said his role as Seg-El means a lot to him: "To be the origin of the symbol of my favorite superhero character—who's always been there for me—is just awesome."
The DC Comics writer and Warner Bros. exec spilled a ton of detail on the series, saying that the Hawkwoman from Thanagar on the show won't be connected to the Hawkgirl on Legends of Tomorrow. Johns also said that Brainiac will be a threat on the show and also said more vaguely that Doomsday will play a part of the drama on Krypton as well. The connections between Rann, Thanagar and Krypton established in DC comics continuity will be seen on the Syfy series. Welsh said that the Adam Strange on Krypton will be more experienced and cynical, with a touch of gallows humor. Johns said that the adventurer would introduce himself to Seg-El by saying, "I'm from a planet called Earth far in the future and I need you to help me save your grandson."
G/O Media may get a commission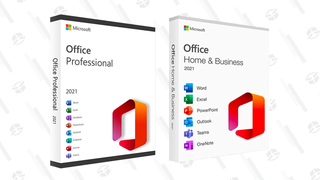 89% off
Microsoft Office Professional 2021 Lifetime License
All this makes Krypton sound like a much bigger, much stranger series than we ever could have imagined when it first got announced. But honestly, it makes us much more interested in checking when it premieres on Syfy next year.