The creator of Bubo, the fighting skeletons, the mighty cyclops and so many more gorgeous monsters is finally getting a movie tribute. Also this week, Grimm goes deeper into the fairy tale mythos of magical lizard royals and Orphan Black returns for more clone-on-clone action.
Today:
Adventure Time (7:45 PM, Cartoon Network):
Now this is cool. It's an all CG Adventure Time, we're so "into it!" Check out how the Ice King changes the world of Ooo by creating a computer virus to delete everybody except himself and Princess Bubblegum. Regular Show will follow.
Being Human (9 PM, Syfy):
"Always A Bridesmaid, Never Alive" is the episode of the big werewolf wedding. But by the looks of this clip, ain't no wedding' happenin' tonight. It's time to fight the witch that zombified Sally in the first place. Let's hope we get to keep our little spirit here, in the flesh!
Revolution (10 PM, NBC):
Find out what really happened to turn off all of Earth's electricity. The flashback episode titled "Ghosts" goes back in time, to dispel our confusion as to how one person could switch off the power for the entire globe. Which should be pretty hilarious, considering Revolution's track record with science.
Lost Girl (10 PM, Syfy):
Ten points for this title: "Adventures in Fae-bysitting." The ladies go undercover inside a gated community, to find out what sort of shady nonsense is happening in Shady Acres.
Also on TV tonight: The 100th episode of Castle is on ABC at 10 PM. Celebrate by calling your father and asking him why he couldn't be more like Nathan Fillion.
Tuesday:
Robot Combat League (10 PM, Syfy)
There isn't much on this Tuesday so we suggest gambling on the robot boxing show on Syfy. Professional tip: Whichever one the announcers dub the underdog is the winner.
G/O Media may get a commission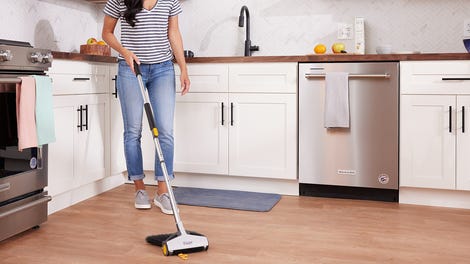 BOGO 50% Off
Flippr - BOGO 50% Off
Also on TV tonight: Ok this is actually pretty exciting so don't immediately zone out when you hear the title, Urban Tarzan is an animal rescue team that take wild animals and other creatures out of dangerous urban environments and relocate them in their natural habitat (or somewhere else if they can't release them). One time they had to get an ostrich out of a grocery store.
Wednesday:
Ray Harryhausen: Special Effects Titan (8 PM, Sony Movie Channel)
The father of many of the greatest classic monster movies, Ray Harryhausen is finally getting his props. This documentary grills the titans of our time about the man who inspired their film careers. Steven Spielberg, Peter Jackson, John Lasseter and more come together to talk about one man, the monster king.
This is the definitive documentary about Ray Harryhausen. Aside from interviews with the great man himself, shot over five years, there are also interviews and tributes from James Cameron, Steven Spielberg, Peter Jackson, Nick Park, Phil Tippett, Terry Gilliam, Dennis Muren, John Landis, Ken Ralston, Joe Dante, Randy Cook, Guillermo Del Toro, Steve Johnson, John Lasseter and many more. For the first time Ray have provided unprecedented access to film all aspects of his collection including models, artwork and miniatures as well as Ray's private study, where he designed most of his creations, and his workshop where he built them. In addition the documentary will use unseen footage of tests and experiments. Never before has so much visual material been used in any previous documentary about Ray. This definitive production will not only display a huge part of the unique collection but will illustrate the influence that Ray's work has had on film makers during the past fifty or so years.
Arrow (8 PM, The CW):
Everybody has vertigo!
When a young woman meets a violent death after partying at Verdant, Detective Lance (Paul Blackthorne) and his new partner, Detective Hilton (guest star Roger Cross) inform Oliver (Stephen Amell) and Tommy (Colin Donnell) that she was on the drug Vertigo. Oliver immediately pays a visit to the mental institution where The Count (guest star Gabel) is locked up, but finds he is in no condition to deal drugs. However, when The Count escapes and Starling City is flooded with even more Vertigo-related violence, Oliver and Diggle (David Ramsey) make it their mission to track him down. After Detective Lance uncovers incriminating evidence against him, Tommy goes to great lengths to clear his name, and the fallout from his actions leads Tommy down a new, unexpected path. In a flashback to the island, Oliver recalls the lessons he learned from Slade (guest star Manu Bennett) and Shado (guest star Celina Jade). Katie Cassidy and Emily Bett Rickards also star.
Supernatural (9 PM, The CW):
Sam goes back to Hell to get Bobby out of Hell. If this is the second trial, what's the third?
Supernatural 8x19 "Taxi Driver" - Sam (Jared Padalecki) and Dean (Jensen Ackles) respond to a call from Kevin (guest star Osric Chau), who is terrified after hearing Crowley's (guest star Mark Sheppard) voice in his head. After hearing Kevin's news, Sam and Dean team up with reaper named Ajay (guest star Assaf Cohen), who helps them deal with the second trial from the Tablet. Meanwhile, Dean receives a visit from Naomi (guest star Amanda Tapping) and realizes he must find Benny (guest star Ty Olsson) and ask for a huge favor.
Also on TV tonight: Brand new Psych at 10 PM on USA.
Thursday:
Person of Interest (9 PM, CBS)
Veronica Mars' Dad is back, and going head-to-head with Harold Finch. This should make for some most excellent banter.
When the number of a leading tech executive comes up, Finch infiltrates her corporation to gather intel but can't determine whether she is working in her company's best interest or planning to destroy it from the inside. Meanwhile, Carter continues to question Detective Beecher's integrity after he provides incriminating information about a fellow detective.
Archer (10 PM, FX):
Cheryl's brother Cecil Tunt (voiced by the amazing comedian Eugene Mirman) reveals a whole lot about Cheryl that no one on ISIS wanted to know.
Community (8 PM, NBC)
Community returns after a short hiatus with "Herstory of Dance." And wouldn't you believe it, there are no video promos for this episode.
Also on TV tonight:There's a new Forecasting The End on the Weather Channel during which the fine folks at the Weather Channel will speculate the last day of our planet's existence.
Friday:
Transformers Prime (7:30 PM, The Hub):
A Transformer storm is a brewing in a big, bad way.
After Starscream's armada fails to apprehend Wheeljack, Shockwave introduces Predaking, an enormous Predacon created in Shockwave's laboratory and specially bred to hunt down Autobots. Meanwhile, high-ranking Autobot general Ultra Magnus arrives on Earth and sets about reuniting the scattered members of Team Prime.
Cult (9 PM, The CW):
A cop starts an investigation into the Cult, and just loses her mind. But was she always this way?
Grimm (9 PM, NBC):
Uh oh, looks like Adalind is about to get hers. This week, Grimm takes a break from the freak-of-the-week and focuses in on the wretched Royal Family.
While on jury duty, Rosalee tasks Nick, Hank, and Monroe to help stop a defense attorney from using his particular 'Wesen wiles' to overturn what should be an open-and-shut murder case. Back at the precinct, Captain Renard brings Nick and Hank in on his own recent dealings with the Verrat, to keep them on their toes. Meanwhile, a return to the trailer brings a flurry of memories of Nick rushing back to Juliette
Touch (9 PM, Fox):
Jake has just two words for you, and no they're not "we're cancelled."
Guest starring Frances Fisher - As Jake uses a cipher to locate Amelia, Martin tracks a bloody path to Guillermo, who is stalking Dr. Nell Plimpton (guest star Samantha Whittaker), someone we've seen before and one of the righteous '36.' Meanwhile, Calvin Norburg meets with Nicole Farington (guest star Fisher), the uber-competent CEO of Aster Corps, who introduces him to the first quantum computer in an attempt to woo him back to the company. When different roads lead to the same location, lives are lost as shocking events unfold in the all-new 'Two of a Kind' episode.
Saturday:
Max Steel (4 PM, Disney):
Max Steel returns after its two-part premiere last week.
After trying to do, and experiment to, clean every dirty bit in the planet, Dr. Tytus transforms everyone in N-TECH in to a zombie-like creature. He transforms himself into a toxic radioactive creature, Toxzon! Now Max Steel must defeat him to get the serum that would bring cure the zombie-like N-TECH people.
Doctor Who (8 PM, BBC America):
As The Doctor's new companion starts to learn the rules of traveling with the man in the blue box, they head off to The Rings of Akhaten where trouble likely awaits.
Orphan Black (9 PM, BBC America):
Even more clones! The second episode of the very exciting Orphan Black introduces (by our count) at least 2 more clones that we didn't previously know about. Aaah, can't wait to meet them all! But seriously, this show is so messed up we can't wait to see more. Here's the new episode rundown:
With a body in her car and nowhere to turn, Sarah (TATIANA MASLANY, The Vow, Picture Day) is forced to continue her con and earn "Beth" a second chance on the force….But with a killer on her tail, her only hope of finding answers lies with another apparent 'identical,' Alison.
Sunday:
Once Upon a Time is on break and The Walking Dead is over. Thank goodness for Game of Thrones.
Ultimate Spider-Man (11 AM, Disney XD):
We certainly hope Ultimate Spider-Man can top last week's Carnage episode.
Game of Thrones (9 PM, HBO)
Sansa and Margaery have a nice long chat. Later Margaery shows King Joffrey around a crossbow. Expect loads of fluttering eyelashes and terrible decisions. Fingers crossed we get to spend even more time in King's Landing in the second episode.
Sansa says too much; Shae asks Tyrion for a favor; Jaime finds a way to pass the time; Arya encounters the Brotherhood Without Banners.
Also on TV today: A new Vikings episode in the History Channel at 10 PM. Plus the Discovery Channel hopes to reveal the secret creatures of the Ozarks at 10 PM on Monsters and Mysteries in America.
Sources:Futon Critic, MSN TV, TV Guide, and various TV studio press releases.