Doctor Who unveils a major revelation about a key character this week! Plus Game of Thrones races towards its startling conclusion. But also, there are teenage werewolves and young vampires! And find out what it'll take to build in space.
Television is looking out for you this week. Here's what to look out for on TV.
Today:
At 7:30 PM, there's a new Amazing World of Gumball, in which "Gumball tries to save Darwin from being kissed by a girl." At 8:15 PM there's a new Mad. Then at 8:30 PM, there's a new Regular Show, in which "Mordecai and Rigby come across a family of ducks living in a fountain at the park – and take quite a shine to them." And then at 8:45, there's a new Problem Solverz. Here's what happens: "The Problem Solverz have a new groupie but are her intentions good?" And watch a clip! Why not?
But tonight's television heats up a lot more, with Teen Wolf! Yes, it's a whole show about Nero Wolfe, the great detective, as a teenager. Watch as he first discovers the joys of orchids and gourmet cooking, and discovers that yellow pajamas can be quite flatter... wait, what? You mean this show isn't a Nero Wolfe prequel? What is the world coming to? Anyway, it's at 10 PM, and here's what happens:
Scott struggles to balance his new life as a werewolf and the pressures of being a teen, all while avoiding werewolf hunters and trying to score a second date with Allison.
Also at 10 PM: A new Sanctuary on Syfy, "Carentan."
When a colleague vanishes amid reports of strange occurrences in Carentan, near Normandy, France, Team Sanctuary rushes off to investigate - only to run into what appears to be a high-level military blockade.
G/O Media may get a commission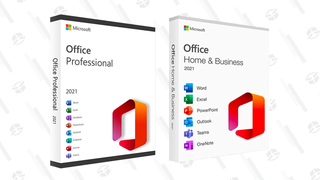 89% off
Microsoft Office Professional 2021 Lifetime License
And then at 10 PM, National Geographic Wild has another Man V. Monster, "Cold-Blooded Killers."
Tuesday:
At 7:30 PM, the Cartoon Network has another new Scooby-Doo: Mystery Inc., "Night Fright."
Shaggy and Scooby win a dinner date with their hero, Vincent Van Ghoul, when Nightfright locks the three up. It is up to Fred, Daphne, and Velma to solve the mystery and rescue their friends.
And that's followed by another episode of the Looney Tunes Show, that odd sitcom about Bugs Bunny and friends, at 8 PM.
Wednesday:
Mythbusters is back at 9 PM, with "Fixing a Flat."
Adam and Jamie try to to fix a flat tire the MacGyver way with various materials. Did a fish escape capture on a rod so quickly, that it set the fishing rod on fire?
And then at 10 PM, there's the second season premiere of Through the Wormhole with Morgan Freeman on the Science Channel. Don't worry, that title's not an instruction, and nobody's going to be trying to get you to put Freeman into any openings in space/time. The season premiere deals with whether there's life after death.
Also, the spring finale of South Park is on Comedy Central at 10 PM.
Thursday:
There's a new Known Universe on National Geographic at 9 PM, called "Construction Zone."
Engineering in space represents the future of human civilization, but also poses some of our greatest technical difficulties. We'l travel to NASA's tool lab and see the equipment we need to build in this challenging environment, from high tech wrenches and hammers to the ultimate robotic handyman, Robonaut.
Friday:
The Disney Channel has the 90-minute premiere of a new series, My Babysitter's a Vampire, at 7 PM. That title is sort of self-explanatory, right? Here's the synopsis for the TV movie:
In the movie, geeky 14-year old Ethan (played by Matthew Knight) is left to babysit his younger sister, Jane (played by Ella Jonas Farlinger), with his best friend Benny (played by Atticus Mitchell). But after Ethan inadvertently puts Jane in harm's way, his parents hire a professional sitter, the beautiful yet mysterious 17-year-old Sarah (played by Vanessa Morgan) who, unbeknownst to them, is actually a fledgling vampire. When the boys discover Sarah's secret, she enlists their help in stopping her vampire ex-boyfriend, Jesse, from taking over their town, Whitechapel. Along the way, they discover that Whitechapel holds a few secrets of its own, and that they themselves might actually even have supernatural powers. When fans of the newest vampire movie "Dusk 3" gather for its premiere, Jesse and his clan of followers plan their vengeance on Whitechapel that night, and only Sarah, Ethan and Benny can stop them from destroying their town.
The show returns as an ongoing series on Monday June 27.
And then at 10 PM, there's the first season finale of Camelot on Starz.
The battle of Bardon Pass continues as Arthur tries to defend it alone. Meanwhile Morgan continues with her plan to take the throne while Arthur is away.
Saturday:
The Hub is having its random grab-bag of Transformers and G.I. Joe cartoons as usual from 7 to 9 PM.
At 9 PM, there's the midseason finale of Doctor Who on BBC America, "A Good Man Goes to War." In which:
When Amy is kidnapped as bait in a trap, the Doctor declares war on those responsible and assembles an army of allies to recover her. Meanwhile, River realizes that the Doctor's darkest hour has come and she must reveal her greatest secret to the Time Lord.
Sunday:
Disney XD is showing another new episode of Avengers: Earth's Mightiest Heroes at 10 AM, "This Hostage Earth."
HBO's Game of Thrones has its penultimate episode at 9 PM, "Baelor."
With Sansa's life in danger, Ned makes a fateful decision. Catelyn brokers an unsavory deal with the slippery Walder Frey. Tyrion acquires a mistress and is forced by his father to fight on the front lines. Robb wins his first major victory and captures a prized prisoner. Jon is rewarded for his valor and discovers a dark secret about Maester Aemon. As Drogo's wound festers, Dany defies his bloodrider Qotho and puts her trust in the enslaved witch Mirri Maz Duur.
Adult Swim is showing a new episode of Aqua Teen Hunger Force at 11:45 PM. That's followed by the season finale of Superjail! at midnight.
Sources: Futon Critic, TV Guide, and various TV studio press releases.