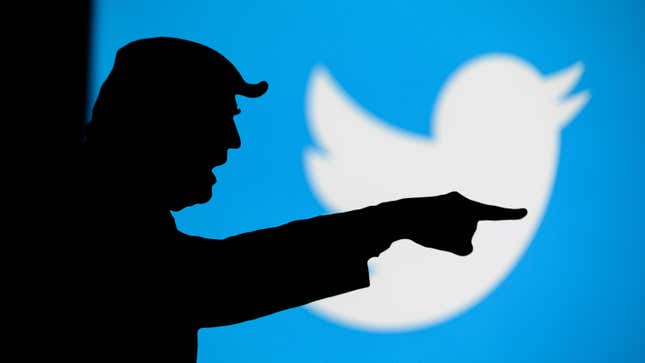 Twitter has seen its share of political bot campaigns, but since spring 2022 there's been a long-running, highly prolific bot campaign proliferating through Twitter to support former President Donald Trump. Even if you first thought it's just the Russians again, a new report suggests these fake accounts were created a little closer to home.
A report from Israel-based social analysis company Cyabra provided to Gizmodo said several massive Twitter bot farms have been recently created to drum up support for Trump and lambaste his prospective opponents for the Republican Presidential nomination, Florida Governor Ron DeSantis and former South Carolina Governor Nikki Haley.
The company's research shows the bot farm was created within the past 11 months solely to heap praise on Trump while ridiculing his potential political opponents, especially those likely to challenge him in 2024. According to the Cyabra researchers, a regular conversation on sites like Facebook or Twitter will attract between 4% to 8% of fake accounts. In many of these conversations surrounding Trump, that was up to between 20% and 40%. Over a quarter of the interactions for pro-Trump officials like Reps. Jim Jordan and Matt Gaetz' on Twitter came from bots, according to the report. It's far, far more than left-wing accounts experience like Sen. Elizabeth Warren or Rep. Alexandria Ocasio-Cortez.
When and where were these pro-Trump bot farms created?
The company researchers found there were three massive bot farms established in April, October, and November of last year. These interconnected bot farms were likely created in the U.S. What's more, all these fake accounts were extremely pro-Trump and attacked anybody who made any negative mention of the former president.
Some of the ultra-MAGA accounts cited by Cyabra were created long before the bot farms were reportedly first created, but the company showed how their prolific Pro-Trump, anti-opponent tweets were getting picked up massively by bot accounts. Supposed bot accounts cited by Cyabra were created in October and retweets people's pet pics then interspaces it with retweets complaining about "traitors" like former Secretary of State Mike Pompeo or former House Speaker Paul Ryan.
The attacks go beyond just the 2024 presidential race. There are a number of other bot accounts that remain prolific in right-wing circles. The report noted that even more accounts spreading antagonism toward Speaker of the House Kevin McCarthy were inauthentic profiles.
AP cited Cyabra engineer Jules Gross as the first to discover the bot farms after noting that many of the accounts cited in the report were created on the same day. Gross and their company went through the different bots to see if they posted about a variety of subjects and posted any original material. Bots, in most cases, do the opposite, and based on Cyabra's research there could be hundreds of thousands of these fake accounts trawling places like Twitter and Facebook.
Are these pro-Trump bots still active?
Gizmodo found that most, if not all, of the accounts cited by Cybara as bots were still active as of reporting time. Despite Twitter owner Elon Musk's stated priority to eliminate bots, there does seem to be a whole lot of them stalking the platform. Worse, there are several obvious bot campaigns linked to illicit arms dealers on Telegram. It's at this point we would reach out to Twitter for comment, but since Musk axed the company's public relations team, we will not likely hear back.
There's a big question whether astroturfing Twitter is actually an effective means of changing public opinion. Despite there being ongoing efforts on behalf of Russia to target conservatives with misinformation, a recent study found there was no "meaningful relationship between exposure to the Russian foreign influence campaign and changes in attitudes, polarization, or voting behavior."
What follows is more detailed look at the major politicians being promoted or called out by this latest bot offensive.