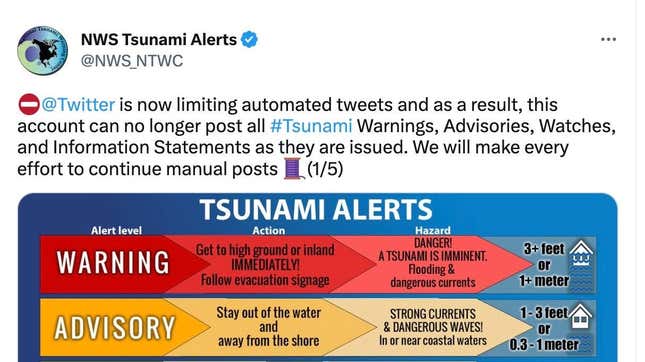 Automated emergency and essential service Twitter accounts have become the latest casualty in Elon Musk's flailing effort to rid Twitter of bots and squeeze users to pay for previously free access to its application programming interface (API).
Over half a dozen Twitter accounts associated with the National Weather Service tweeted out statements over the weekend saying Twitter had barred them from using its API. Twitter's sudden suspension means the accounts are prevented from instantly pushing out automated weather alerts and warnings from their parent agencies. Those accounts have hundreds of thousands of followers collectively and are an invaluable safety tool for community members trying to keep track of potentially dangerous weather events. Twitter also suspended the US National Tsunami Warning Center's API access before eventually reversing that decision. It remains unclear why Twitter decided to reverse course on some of those suspensions and not others.
Weather service accounts weren't the only accounts impacted. Automated accounts associated with New York's Metropolitan Transit Authority and San Francisco's Bay Area Rapid Transit also lost their API access, leaving millions of followers unable to receive up-to-date information on public transit delays or dangers via Twitter. Twitter has since reversed BART's API suspension, but it's unclear if it will do the same thing for the MTA.
All of that chaos and confusion stems from Musk's haphazard attempt to monetize access to Twitter's API. Starting this month, developers interested in accessing the API now have to choose between a Free, Basic, or Enterprise tiers. The free version provides ​​1,500 tweets each month at the app level. That figure jumps up to 3,000 tweets per month if developers fork over $100 for the Basic tear. The Enterprise tier, which is what most government agencies say they would need, costs an eye-watering $42,000 per month. Twitter argued the drastic changes to the once-free system were meant to combat Twitter's bot plague. That may have worked, but Musk's tier system is killing off good bots along with the bad.