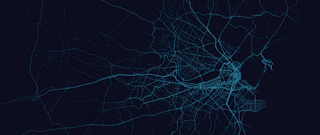 Uber has announced that it's going to begin sharing its ride data with city officials to "help cities become more liveable, resilient, and innovative."
In a blog post, the company announced that it's to begin collaborating with Boston, providing data about the rides that get made using its service in the city. It's at pains to point out that all data will be stripped of any identifiable information—including individuals' names and addresses. That's not surprising, given outcry over its God View tool.
Uber explains that it won't share addresses at all. Instead, it will provide city planners at Boston with the ZIP Code Tabulation Area (ZCTA) the trip started and ended in. If you've never heard of it, ZCTA is a bit like ZIP but broader—there are roughly 32,000, versus 42,000, covering the entire country. It'll also share trip distance in miles and duration in seconds. Essentially, enough to understand the dynamics of city Uber flow, but not enough to give away anyone's identity.
What's the data going to be used for? Uber suggests traffic planning, congestion reduction, identification of zoning changes and needs, creation or reduction of parking and more. But really, it'll be down to officials at Boston to turn any insights it can glean into real-world policy. And, presumably, to quell any privacy concerns, too. [Uber]