The Second World War just doesn't seem to want to go away. Earlier this week, a construction crew working in London, England, accidentally stumbled upon a rather large undetonated bomb, resulting in the evacuation of some 1,200 residents.
The device, a nasty left over from the German Blitz of the Second World War, was discovered on a building site in Grange Walk, Bermondsey on Monday. As a precaution, hundreds of homes were evacuated and two primary schools were closed. It also caused the closure of the nearby Tower Bridge.
The 656 feet (200 meter) exclusion zone was lifted once the device's two fuses were deactivated by an army bomb disposal team. The bomb has been relocated to a quarry where it is to be detonated.
G/O Media may get a commission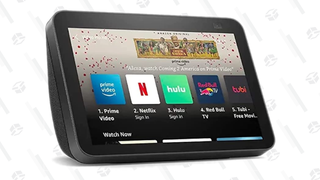 Blimey is right: Not every day you get a note like this on the door.
According to the Metropolitan Police, the device was an "SA" 250 kg (500 lbs) and five-foot long German air-dropped bomb. Since 2007, at least seven Second World War-era bombs have been defused in London.
Images: Rupert Frere