Next Friday, April 27, an all-new, inclusive fan gathering was supposed to be welcoming cosplayers, creators, and enthusiasts from all over to Baltimore, Maryland. But today, one week before the event was supposed to begin, news came out that the debut Universal FanCon has suddenly been postponed.

Is AI Moving Too Fast? | Future Tech
After raising a first round of funding via Kickstarter two years ago (it garnered $56,498 in pledges), Universal FanCon was scheduled to have a multidisciplinary mix of comics creators, media personalities, activists, and influencers as part of its programming. The event has been much anticipated by fans for months, but earlier today, word started spreading across Twitter that the event wouldn't be happening next week when screenshots of an e-mail sent to some attendees started circulating.
A short while later, an announcement came via Twitter thread from the show's official account:
We see your tweets, messages & concerns. We will have a full update later today on the status of the convention. We realize the immense severity of the situation and our teams will be working to address everything as soon as possible. Thank you for your patience and understanding. It is with a heavy heart that we must announce that FanCon has been postponed until further notice. We deeply apologize for the disappointment, anger and feelings of lost trust due to this decision. We are taking the steps to reschedule the convention & will provide an update.

We know there are lots of questions regarding what happened and how it happened and why this happened at this stage—all of this will be addressed in full detail later today and will be posted on our site and our social media accounts. We recognize that people have poured time, effort and money into making this convention a success and many are in precarious positions as to their plans for the next weekend. We will do all we can to help establish some resolutions. We are devastated to make this postponement decision—but most importantly we recognize and take on any pain we've caused to our guests, our backers, our affiliates, the attendees and anyone even remotely involved.

What happens next: 1. Again we will provide full insight into the situation later today 2. We have a contingency plan for people who still will be in Baltimore/can't change their travel plans; to be shared later today. 3. We will address all questions about ticketing, booths, & any other involvement in our communication to be posted across our sites/social later today. We will also be addressing concerns on the individual level as efficiently as possible. Please email: info@universalfancon.com. To reiterate: FanCon is postponed until further notice. It will NOT occur April 27-29. We will provide further details later today to address all concerns and questions and provide insight into how and why this happened. Inquiries can be directed to: info@universalfancon.com
G/O Media may get a commission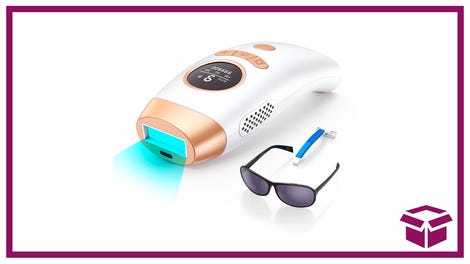 58% Off + Coupon
IPL Hair Removal Device
A similar message was posted to the group's Facebook page but as of publishing, it has yet to post any updates to itsofficial website.
The Hollywood Reporter cites a source saying that Universal FanCon had a "financial deficit." Co-creator and president Robert Butler tweeted in response to the news but offered no further detail as to the causes of the postponement.
Update: 04/23/18, 8:57 AM: Butler has deleted some of the tweets from his first thread of responses. This screenshot below presents the full thread in context.
io9 has reached out to event organizers for comment and will update this article if they respond. If you have more information about this, please e-mail us at tips@io9.com.