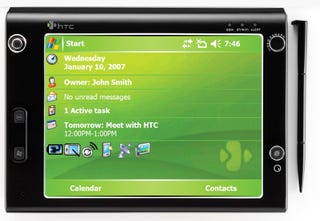 Great news for business users as HTC's just announced that they're going to have BlackBerry Connect available on all five of their new phones being launched at 3GSM. For the unfamiliar, BB Connect lets non BlackBerry phones support BlackBerry-ish email and data, which include:
Enhanced attachment handling capabilities, enabling users to view images, footnotes and tracked changes;
Remote look-up of corporate email address directory;
Triple DES or AES wireless encryption;
Internet and corporate intranet access via the BlackBerry Mobile Data System;
Wireless device provisioning to allow devices to be activated wirelessly;
Remote control of email settings to allow users to wirelessly configure out-of-office replies, email filters, and auto-signatures directly from their device; and
Wireless IT policy enforcement and commands.
Now you can finally convince your IT guy to let you use HTC Windows Mobile phones instead of the old BlackBerries they've had since 2003.
Press Release [RIM via Solsie]