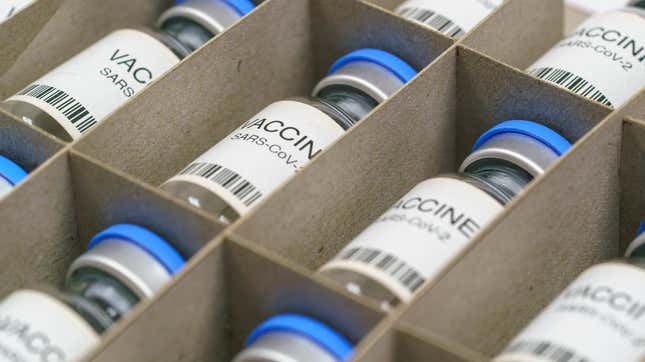 This week, the Food and Drug Administration has approved updated mRNA vaccines for covid-19. The vaccines are intended to increase people's protection from the latest circulating variants of the coronavirus, which has started to cause a recent uptick in illness. The Centers for Disease Control and Prevention will soon issue its own recommendations on who should receive them.
Vizio's Latest TVs Go All Quantum
On Monday, the FDA officially gave the go-ahead for Moderna and Pfizer to update their respective mRNA vaccines. Both vaccines will now be tuned to induce immunity against the Omicron variant XBB.1.5. The decision to target XBB.1.5 specifically was made earlier this June, when the variant was widely circulating in communities across the country.
XBB.1.5 is still present in the U.S., but it has become outpaced by other variants over the summer, such as EG.5 and BA.2.86. All these variants of the virus are closely related, though, and the FDA was satisfied by recent data suggesting that the updated vaccine should provide good protection against any version of the coronavirus currently spreading today. The FDA also noted in its announcement that it currently expects covid-19 vaccines to be updated once a year, barring the emergence of a highly mutated variant that could require more urgent action.
"Vaccination remains critical to public health and continued protection against serious consequences of covid-19, including hospitalization and death," said Peter Marks, director of the FDA's Center for Biologics Evaluation and Research, in a statement released by the FDA. "The public can be assured that these updated vaccines have met the agency's rigorous scientific standards for safety, effectiveness, and manufacturing quality. We very much encourage those who are eligible to consider getting vaccinated."
The updated vaccines are eligible for anyone over the age of six months to take, though with some considerations. Previously vaccinated people may be eligible for either one or two booster doses, for instance, depending on their vaccination history. And people in general are recommended to wait at least two months after their most recent vaccine dose before getting another one.
While the FDA is responsible for authorizing or approving vaccines in the U.S., the CDC is charged with determining who would most benefit from taking them. Their recommendations are crafted by the Advisory Committee on Immunization Practices, a panel of outside experts assembled by the CDC, and carry significant weight. Insurance companies are required to provide coverage for vaccines recommended by the ACIP, for instance.
The ACIP will be meeting on Tuesday to discuss and vote on their recommendations. The CDC is then expected to quickly sign off on the decision, and it's possible that the updated vaccines could be available to the public as soon as this week.
There have been far fewer deaths and hospitalizations caused by covid-19 this year compared to the past, both in the U.S. and worldwide. But outbreaks can still disrupt people's day-to-day lives and cause spikes of serious illness in the population, particularly in at-risk groups like the elderly. There has also been an increase in covid-related illness during the second half of the summer, including hospitalizations (though again, to a much lower extent than earlier summer waves). And it's expected that there will be a resurgence of covid-19 and other respiratory infections, such as the flu and RSV, this fall and winter.