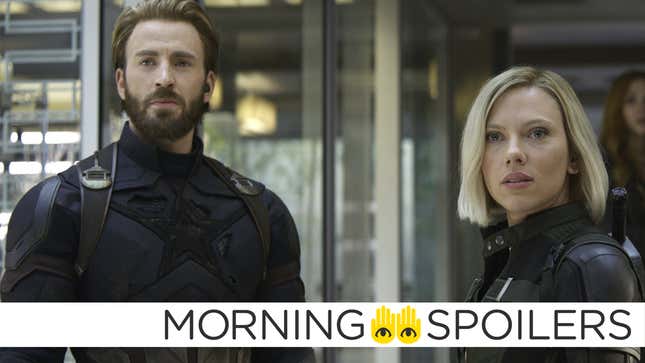 Joe Russo teases a darker Captain America and Black Widow in Avengers 4. Fox 21 and McG are teaming up for a Vampyr TV series. Star Trek: Discovery's head makeup artist teases those big Klingon changes. Plus, tons of new American Horror Story promos, and Stephen Amell discusses Arrow's most important new character. Spoilers, away!

Meet Microsoft's New Surface Laptops



Avengers 4
In a recent interview with The Huffington Post, Ant-Man and The Wasp director Peyton Reed stated he "won't rule out" time travel playing a part in undoing the events of Avengers: Infinity War.
Based on the science that we've set up in the first movie and this one, I won't rule out the possibility, because, again, we are dealing with a time vortex. That could happen.
Meanwhile, Joe Russo stated both Captain America and Black Widow have developed a "much harder edge" from their encounter with Thanos in a new interview with Wired (via CBR).
In Winter Soldier, what we found so compelling about pairing her up with Captain America was that he is this paragon of morality, and she is a paragon of gray. But they've grown together, and I think when you find them in [Infinity War], they've been the Secret Avengers for two years… they're like a tight-knit family now. Her, Sam Wilson, and Steve Rogers. It's hardened all of them in a way. I think all of those characters, specifically the ones who survived Infinity War — Cap and Natasha — we will see them with a much harder edge.
---
The Tommyknockers

Variety reports Jeremy Slater (The Exorcist, Fantastic Four) will write the screenplay for Universal's feature adaptation of Stephen King's The Tommyknockers.
---
The Nun

The latest TV spot showcases a full abbey of wicked nuns.


---
Scream
Mary J. Blige has joined the cast of season three as Sherry Elliott, the mother of RJ Cyler's character, Deion Elliot. [THR]
---
Lost in Space
That Hashtag Show reports Lost in Space is now casting Commander Jiang, captain of the Resolute, as well as a "firm, hardworking and serious" actress between her 20s and 40s to play a new character named Ava.
---
Mr. Robot
In a recent interview with Collider, Christian Slater revealed he believes season four will be Mr. Robot's last.
Yeah, season 4, and I believe that will be the last season. (Show creator) Sam [Esmail] always said it was going to be somewhere in that zone, and he didn't want to go further than what he could creatively contribute to that storyline. So, I think that season 4 will be it. I think they're in the writers' room, as we speak, putting it all together, but I have no idea what it's gonna be, or if I'm gonna be floating in and out of scenes. I have no idea, so we'll see what happens.
---
Vampyr
Deadline reports Fox 21 is teaming with McG to develop a TV series based on Dontnod Entertainment's recently released RPG video game Vampyr, about a clinician who gets turned into a creature of the night and tasked with combating an epidemic in 1918 London.
---
Star Trek: Discovery
Star Trek: Discovery's Head of Make-Up Effects Glenn Hetrick revealed to Syfy Wire that fans "are going to freak out" about the show's upcoming re-evolution of its Klingon design.
We're trying to adhere as much as we can to canon, but still evolving it and making it something for today's audience - making it smarter, cooler, and technically more impressive so it can hold up in HD. But we don't want anything that looks so different that someone goes, 'That's not what an Andorian looks like.' It's a fine line... We're obsessed with that story [Kahless the Unforgettable]. And as we unpack it, we're going to find tons of other reasons for the Klingon look. I think people are going to freak out when this unfurls in front of them.
---
Outlander
Season four premieres Sunday, November 4th at 8/7c on Starz. [TV Line]
---
The Gifted
Showrunner Matt Nix spoke to TV Guide about the emergence of Reed Strucker's latent superpowers.
Reed's had powers suppressed for 30-something years. So when they come along, it's a rough ride. It's a very, very rough ride. It's not like he's suddenly a super hero. And one of the things we think about a lot is how are these powers hooked into someone's emotional life, and Reed's a pretty repressed guy. So powers showing up for Reed is not good news. It's very, very bad news.
---
Game of Thrones

Speaking with The Wrap, Nikolaj Coster-Waldau promised the Game of Thrones finale will make sense. Thankfully.
I read it, and I wrote [creators] Dan ["D.B." Weiss] and David [Benioff] and said I don't think they could have done a better job. I mean, when I read it — I've spent so many years working on this and been guessing and trying to figure out how this will end — and when I read it, some of the parts of it I'd get, and other parts of it were just completely shocking and surprising. And it wasn't, there were none of those horrible — you know shows where it's a murder mystery and at the very last minute you find out it doesn't make sense? But here all the pieces fit into this massive jigsaw puzzle.
---
Arrow
Stephen Amell revealed his process of developing Oliver Queen's iconic comic book goatee on Twitter.
---
American Horror Story: Apocalypse
In the latest promo, a specter made of "radioactive mist" engulfs a woman who walks in reverse, as it is wont to do.
Elsewhere, five mysterious new Instagram videos have been added to the show's Instagram.
---
Iron Fist
Danny and Colleen gaze off at something troubling off-camera in a new poster for season two.
---
The Outpost
KSiteTV has images from August 28's return episode, "The Colipsum Conundrum." More at the link.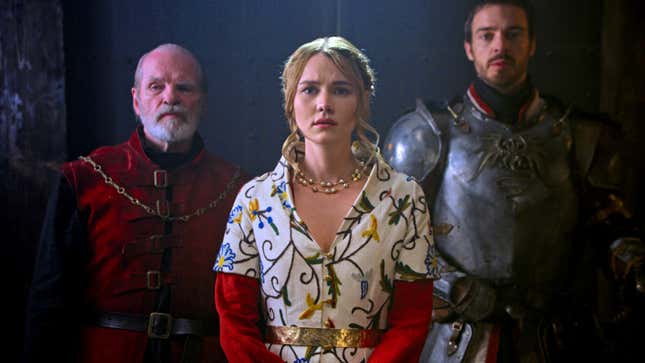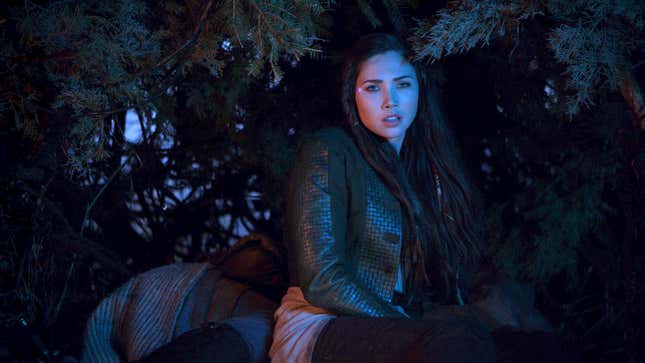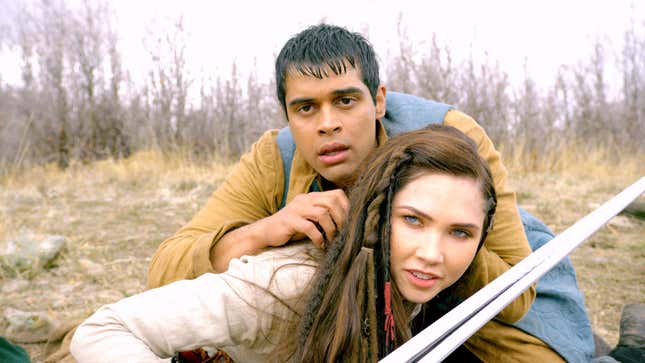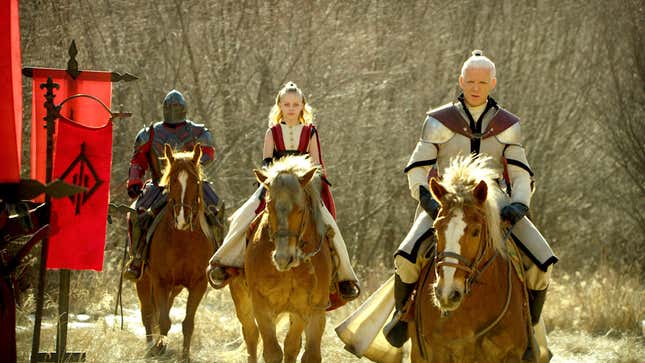 ---
Castle Rock
Finally, memories haunt Ruth Deaver in the trailer for next week's episode of Castle Rock, "The Queen." Our own Cheryl Eddy says now is the time to get caught up on the show!
---
Banner art by Jim Cooke.
Correction 1.20PM EDT: An earlier version of this article sourced a quote from Joe Russo directly to Comic Book Resources. The quote is actually from an interview with Wired. io9 regrets the error.