It sounds like a joke, but this octopus, which looks like it might just eat the Earth, waving its tentacles over the slogan "Nothing is Beyond Our Reach," is the logo for NROL-39, the latest satellite mission launched by the United States' National Reconnaissance Office.
This logo adorns the NROL-39 satellite, which was launched by Atlas V rocket earlier this week. And NRO spokesperson Karen Furgerson doesn't do much to make the logo seem less threatening. In an interview with Forbes, she said:
NROL-39 is represented by the octopus, a versatile, adaptable, and highly intelligent creature. Emblematically, enemies of the United States can be reached no matter where they choose to hide. 'Nothing is beyond our reach' defines this mission and the value it brings to our nation and the warfighters it supports, who serve valiantly all over the globe, protecting our nation.
So, malevolent octopus aside, what is the purpose of the mission? Here is the agenda according to the NRO press release:
NROL-39 will carry the Government Experimental Multi-Satellite (GEMSat) payload into orbit in a specially designed Aft Bulkhead Carrier, part of the Atlas V Centaur upper stage. The GEMSat payload contains 12 CubeSats, or "nanosatellites."

GEMSat's CubeSats will perform a variety of unique scientific experiments and demonstrate high-technology operational concepts. Sponsored by the NRO's Mission Integration Directorate and the National Aeronautics and Space Administration's (NASA) Launch Support Program, these CubeSats were developed by a number of laboratories, universities, and government entities across the United States.

 Two developed by Aerospace Corporation, called AeroCube-5 (AC-5), will demonstrate new technologies for pointing and tracking between two identical CubeSats. AC-5 will also record launch environment data such as pressure, temperature, and vibration; and will demonstrate a deorbit device.

 One developed by the Air Force Institute of Technology, ALICE, will test the performance of an advanced carbon nanotube array, which has great potential for smaller, lighter, and more energy-efficient satellite propulsion.

 Four developed by the United States Army — one called SNaP, two SMDC-One, and one TacSat-IV — will demonstrate nanosatellite communication capabilities.
G/O Media may get a commission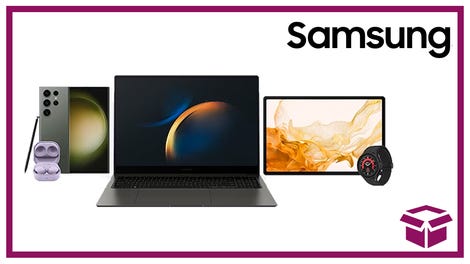 24 hour deals
Discover Samsung - Daily Deal
And, while the CubeSats engage in their spy science, that octopus will be up there, watching.
Atlas V launches NROL-39 from Vandenberg [NASA Spaceflight] NROL-39 Scheduled to Launch with GEMSat Auxiliary Payload [NRO via Mother Jones]