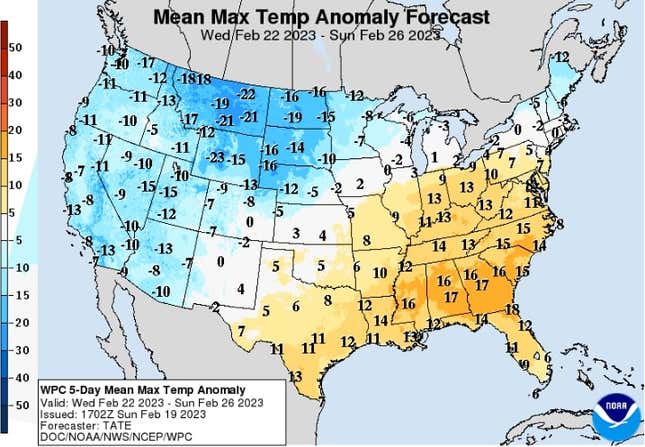 A diagonal line stretching from New Mexico to Massachusetts is set to effectively split the country in half this week. Aside from a narrow range in the middle of the divide, most places to the west and north of the split will face temperatures far below average along with intense winter storms, while states to the south and east are set to reach staggering high temps.

"Widespread record-breaking highs possible in the East and much below average cold in the West beginning mid-week," the National Weather Service wrote in its most recent short range forecast. On top of the temperatures, meteorologists are predicting big precipitation totals.
Between today and Sunday, a pattern of upper-level wind "will bring numerous weather hazards and significantly anomalous temperatures coast-to-coast...with almost all of the country experiencing some form of notable weather," NWS forecasters wrote Tuesday morning.
From the West Coast to the upper reaches of the Northeast, heavy snow is forecast today through Thursday. Western mountain ranges are expected to get 1-2 feet of snow. And though most accumulation will be at higher elevations, California's central valley could see some light snow, according to the NWS. Northern Plains states and parts of the Midwest could also get between 8 inches and 2 feet of snow. Parts of the Northeast will likely receive a few inches.
Meanwhile, the Lower Great Lakes and points south into Illinois are set to get freezing rain and up to a quarter-inch of ice accumulation. Then there are downpours and thunderstorms predicted for the Midwest and parts of the Plains states, which could bring flash flooding on Wednesday.
High winds with gusts up to 80 mph are possible as well in the Great Basin, Rocky Mountain, and Great Lakes regions, bringing "bitterly cold wind chills" into the mix.
Road and air travel are likely to be impacted by hazardous conditions across a wide swath of the country, with the biggest impacts occurring in mountainous parts of the West and parts of South Dakota, Minnesota, and Michigan, according to the NWS's Winter Storm Severity Index.
Across the meteorological divide, forecasters predict it's going to be downright hot. Temperatures near or above 80 degrees Fahrenheit will extend from Texas into Maryland on Thursday. In Florida, some central parts of the state, including Orlando, are expected to hit 90 degrees. Orlando's current high temperature record for February is 87 degrees, set in 2021.
Already, February has been unusually warm for much of the Eastern U.S. January was, too. Overall, last month was the sixth-warmest January ever recorded, according to a NOAA climate report published this week—even factoring in the patches of the continental U.S that have been unusually cold and two widespread polar vortexes. Warm temperatures mean the East Coast has gotten nearly no snow this winter.
Though all of this week's particular weather event can't yet be directly attributed to climate change, climatologists determined in a 2022 review study that human-caused climate change is making every instance of extreme heat more intense. Scientists also know that climate change can make large storms more frequent and intense.