It seemed like the amazing HTC Vive virtual reality headset would be the first to market—ahead of Sony's Morpheus and the Oculus Rift. That's not necessarily happening. According to a new press release, consumers probably won't be getting their hands on Valve VR until 2016. Shame.
While originally, the Vive was set to ship this holiday to consumers (here's the proof) a Valve press release now suggests a staggered rollout: only "a limited quantity of community and developer systems" will be available this holiday, with consumers having to wait till the first quarter of next year.
For those keeping score, that means all of the major consumer VR headsets are now slated to arrive at roughly the same time. The final Oculus Rift is also due in Q1 2016, and the Sony Morpheus in "early 2016" last we'd heard.
What sets the Vive apart from the competition, other than price? Well, it's got a genius motion tracking system called Lighthouse that lets you walk around a room without banging into walls, while the virtual environment measures where your head and hands are at all times. You can even juggle objects. Plus, there's Valve's reputation as a video game platform owner and game designer. It won't be limited by the power of PlayStation 4, unlike the Morpheus, though Oculus also has that advantage. (Both Oculus and Vive will require powerful PCs.)
Why the delay? Can't say yet, but financially, Vive manufacturer HTC hasn't been having a particularly good time as of late.
G/O Media may get a commission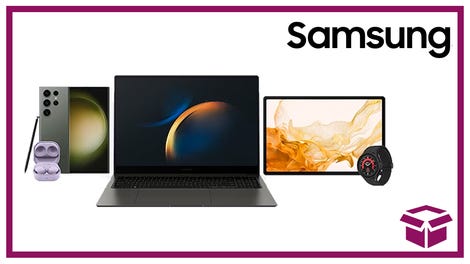 24 hour deals
Discover Samsung - Daily Deal
Update: An HTC rep gave us this statement, which doesn't contradict the press release one bit: "We'll have a limited number of units by the end of the year, with more to come in Q1 2016."
[Valve via VRFocus, Ben Gilbert]
---
Contact the author at sean.hollister@gizmodo.com.