Between Afterlife with Archie, Chilling Adventures of Sabrina, and the recent addition of Jughead: The Hunger, Archie Comics' horror imprint is flying higher than Sabrina's broomstick ever thought possible. But there's already another series coming to Archie Horror, and it's got a bit of a bite to it.

io9 can exclusively reveal the amazingly-titled Vampironica, which will be written by brother-and-sister team Greg and Megan Smallwood, with Greg also running art duties alongside letterer Jack Morelli. The premise is as simple as the title implies: Riverdale socialite Veronica Lodge encounters a centuries-old creature of the night, who transforms her into a bloodthirsty vampire who must descend on her unsuspecting hometown to satiate her newfound hunger.
But while Veronica now has to contend with a horrifying transformation, she's still the Veronica we all know and love—an often snooty big spender who values her social status as much as anything her family's vast quantities of money can buy. "Fans can rest assured that we'll be staying faithful to the core of these characters," Greg Smallwood said in commentary provided to io9. "It was very important to Megan and I that Vampironica be the same Veronica that we all know and love, only now with fangs. Realistically, how would a narcissistic teenage shopaholic react to becoming a vampire? We found an equal amount of humor and horror in the answer to that question but the story also takes us to some amazingly heartfelt places."

G/O Media may get a commission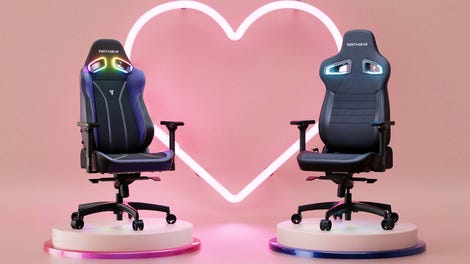 Up to $150 off
Vertagear Gaming Chairs
According to Megan Smallwood, that means Vampironica will take Ronnie to new places that will, weirdly enough, humanize the character perhaps more than she sometimes was before, you know, the whole vampirification thing. "Greg and I were both very interested in exploring the concept of a vampire Veronica without getting rid of what makes Veronica such a special character. Ironically, Vampironica humanizes Veronica in a way that only horror can. Becoming a vampire is a humbling experience for her and she's forced to open up and expose a little vulnerability."

"We let Veronica's well-established personality lead the story at all times," Megan continued. "Vampironica is Dracula, your BFF, and the most self-absorbed girl you know all rolled up into one. Veronica Lodge never lets anyone stand in her way and that definitely holds true for Vampironica. Veronica Lodge is not the kind of girl to join any ranks, let alone vampire ranks. True to form, Veronica instead relies on her own gut-instincts. They haven't let her down in life and they won't let her down as she navigates the surreal world of the undead."

But while there is going to be humor in Veronica's new situation, as an Archie Horror series Vampironica is still going to be backed with creepy goings-on, thanks to the brother-and-sister team's shared love of both horror and the world of Archie. "Megan and I grew up watching the same horror movies and reading the same scary stories so it was incredibly easy for us to hone in on a particular tone," Greg continued. "I'd say that our biggest influences are American Werewolf in London and Fright Night. Both films can be quite horrific but there's also a lot of strong characterization and humor to them. I think horror works best with a small dose of comedy for levity so we've used the same formula on Vampironica."
"I couldn't get enough comics as a kid so my sister and I would trade comics to read," Greg told us. "I'd give her Batman and she'd give me Archie. I'm a fan of the Archie characters thanks to Megan so when I was presented with the opportunity to do Vampironica, I knew she had to be a part of it. She's a great storyteller in her own right but she also brings an encyclopedic knowledge of Riverdale's denizens to the table."

Vampironica descends onto store shelves on March 14, 2018.