Officials at Vanderbilt University Medical Center have decided to recall 8,000 pairs of eclipse viewing glasses that were distributed last weekend at the Williamson County Fair. The recall was prompted after the original manufacturer of the glasses could not be confirmed.
We're only days away from the August 21 coast-to-coast eclipse, and there's mounting confusion as to which eclipse glasses are safe and which aren't. Earlier this week, Amazon said it's contacting customers who may have bought fake eclipse glasses on its website, saying some of the glasses available for sale on its site "may not comply with industry standards." Disturbingly, the American Astronomical Society says that glasses marked with an ISO (International Organization for Standardization) stamp may be fake, making it difficult—if not impossible—to know which glasses are real and which aren't.
In the latest twist—and just to complicate things even further—Vanderbilt University Medical Center is recalling 8,000 glasses that can't be tied to a manufacturer. The university purchased the glasses through a third-party vendor, and the sale included documentation claiming the glasses had been tested and met safe-viewing standards—but the manufacturer of the glasses, very weirdly, cannot verify that it actually produced the glasses.
To be safe, VUMC decided to recall and replace the eclipse glasses given what's at stake, namely people's vision. "The safety of the public is our highest concern," stated the university through a statement. "Do NOT use them to view the eclipse." Definitely a good call given that VUMC is located in Nashville, Tennessee—a city that's parked directly inside the solar eclipse's Path of Totality.
G/O Media may get a commission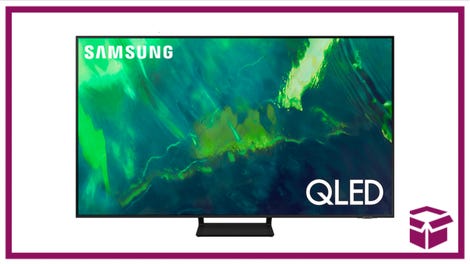 35% off
Samsung Q70A QLED 4K TV
Save big with this Samsung sale
If you're ready to drop some cash on a TV, now's a great time to do it. You can score the 75-inch Samsung Q70A QLED 4K TV for a whopping $800 off. That knocks the price down to $1,500 from $2,300, which is 35% off. This is a lot of TV for the money, and it also happens to be one of the best 4K TVs you can buy right now, according to Gizmodo.
The recalled glasses feature solid white paper frames with the Vanderbilt Health logo on both temples of the frames (pictured above). Importantly, Vanderbilt eclipse glasses with multi-colored frames, featuring black arms with blue or orange accents, were not recalled. According to VUMC, the multi-colored eclipse glasses were procured through a different vendor, Rainbow Symphony, which is approved by the American Astronomical Society and NASA. The manufacturer of the recalled glasses was not named. VUMC has purchased a new supply of approved glasses, which will be handed out starting today.

"Persons who have already received the recalled glasses may exchange them for a new pair at Vanderbilt Health Walk-In Clinic locations beginning at noon Thursday, Aug. 17 through 10 a.m. on Monday morning, August 21, or until the supply has been exhausted, whichever occurs earlier," writes the university. Locations where exchanges can be made can be found here.
We reached out to Vanderbilt University for further comment and will update this post should we hear back.
As a final note, NASA has put together a guide on how to view the 2017 solar eclipse safely. And here's how to tell if your glasses are real or fake.