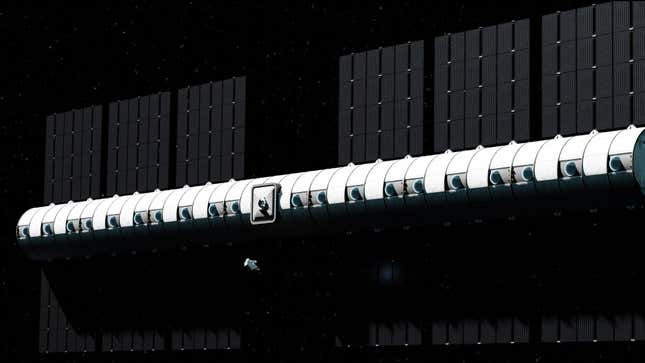 In Vast's quest to build a space station complete with artificial gravity, the private space company has acquired startup Launcher in order to take a step toward making its plans a reality. Despite the news of the acquisition, both companies remain tightlipped on Vast's plans for the space station.

Details about Vast's proposed space station are delightfully thin, which tracks for a company founded by a crypto billionaire, but we know it will feature artificial gravity generated by the centrifugal force generated by a spinning module. Vast and Launcher have both stated that the space station will operate in low Earth orbit and have a volume much larger than the International Space Station, which is slated to retire at the end of this decade. Vast CEO and founder Jed McCaleb told SpaceNews in September that the goal of the space station is to serve as a research station and machine shop.
In response to our query for more information, Max Hoat, now-president of Vast and founder of Launcher, offered this response through a company spokesperson: "It will take many steps to achieve our vision of the gravity space station. We are not yet revealing the first step/milestone in terms of name, form, factor, functionality or timeline, but we will soon reveal in upcoming releases."
According to the terms of the deal, Vast will continue to develop Launcher's Orbiter, a transfer vehicle that maneuvers satellites to their operational orbits. Likewise, Vast will also continue to carry Orbiter's E-2 staged combustion rocket engine, while focusing on the production of more liquid rocket engine products. TechCrunch reported that Vast plans to use Orbiter to test some of the space station's components with a launch scheduled as early as June. Launcher is headquartered in Hawthorne, California, while Vast works out of Long Beach, California.
"The Vast team will be greatly enhanced by combining with the talented and driven people at Launcher," said McCaleb in a statement. "We have all been extremely impressed with what they have achieved so far. Speed of execution is a critical element of our mission and Launcher has shown that this is in their DNA"
The collaboration comes as various private space companies look to occupy the orbital void created by the impending absence of the ISS. NASA has selected Blue Origin, Nanoracks, and Northrop Grumman to develop alternatives to the ISS to repopulate the dead space, but administration officials have previously expressed concern about the stated timelines for when those commercial space stations will be ready.
More: Giant Claw for Removing Space Junk Is Now One Step Closer to Reality