The VholdR ContourHD is a helmet camera with 720p capabilities.
The Price: $300
The Verdict: This helmet cam is great for shooting mountain bike or skateboarding shenanigans, especially if you can steady the camera a bit – a snug helmet mount will work better than the handlebars. Although some sort of steadying device would help a lot, since heads tend to shake more than most areas of the body, this camera tends to shake as much as most others that also lack a fish eye type lens (Don't get me wrong, it has a 135 degree field of view, which is wider than almost all cams on the market. And 135 degrees seems to be a good angle for chasing and filming friends with. ) Colors and detail come out really well, except on snow, which tended to be washed out and over exposed. But it shoots in HD: 1280 x 720 at 30 frames per second, which is output as a 16:9 720p picture. Or 60 frames per second in SD. And that's a rare thing in helmet cameras these days.
The ContourHD's record/stop functioning is matter of sliding a giant tab up or down and is easy to operate, even with ski gloves on. Aiming the device is pretty simple, too, because the field of vision is determined by dual laser pointers, which remind you where your cam is pointing. It is not waterproof, but it held up fine to getting pummeled by wet snow for a run when I duct-taped it to the nose of my snowboard (probably not a recommended mounting option). Speaking of mounting, the camera comes with a goggle-strap mount and a 3M sticky-backed flat surface mount. Optional mounts are coming, including a suction mount for attaching to cars and smooth surfaces of outdoor gear.
The camera itself isn't in a housing, which is great for the form factor, but the aluminum and plastic case will run into some issues: If you fall on this camera, there's no layer of protection for it, and it will get hurt on big enough falls. Wind noise could also be a potential problem, as you can see in some of the videos on VHoldR's site. And there's no way to fully submerge this camera, so its not good for water sports.
You'll also probably want a MicroSD card bigger than the 2GB that comes with the camera, good for an hour of HD footage. The device does charge by USB, though, and having a rechargeable lithium battery, swappable no less, in such a device kicks ass. The battery claim is 3 hours while recording SD, so less with HD.
The two significant shortcomings I saw in the pre-production demo unit they sent have apparently been addressed in the final production run. Those "bugs" they've addressed: the Record on/off switch now has sufficient magnetic strength to stay on when vibrating hard, and the battery will no longer shake loose under serious vibration.
G/O Media may get a commission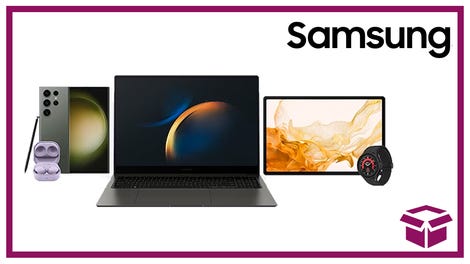 24 hour deals
Discover Samsung - Daily Deal
HD on a sport camera.


Rechargeable lithium ion battery


Mounts only on helmet for now.


Not waterproof enough for submersion

Randy Salzman is a volunteer Ski patroller. He rides an alpine/carving board but can pretty much ride anything.
[Vholdr]