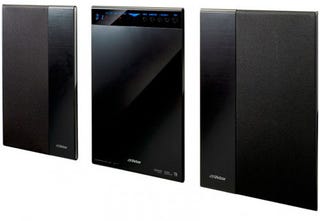 In case you've been wanting a pair of speakers that can hang like a picture, Victor JVC will allow you to check off that ambitious life goal.
Their new SP-FT1/FT2 speakers are just 1.2 inches thick, and can be mounted on a wall or set on a table with a built-in stand. The accompanying 20W×4ch amp is nearly just as unobtrusive (.2mm thicker) and supports Dolby Digital/DTS/AAC/Linear PCM formats.
Of course, you'll still need to run wires.
Sadly, these products are exclusively available in Japan for now. The speaker set runs $220 with the amp coming in at $260. [JVC via CrunchGear]