The last Star Wars movies may have been a letdown, but it's time to move on. In fact, it's time to stop blaming Lucas altogether...because maybe you can do better. Maybe you can make your own Star Wars-level sci-fi creation.
Read This First
Even though Star Wars is iconic, Warner Music isn't keen on you using their soundtracks. So don't use their original music (or original video, for that matter). Use Creative Commons audio tracks (with proper attribution) and make your video content 100% original. Anyone who doesn't follow these rules won't be featured.
The Challenge
For this month's Video Challenge, create a 1-minute trailer of a Star Wars for the next generation. It can use Star Wars motifs, like light sabers and Storm Troopers, OR, it can be a sci-fi world wholly your own that has nothing to do with Star Wars. Tease us with the feature film you COULD make.
G/O Media may get a commission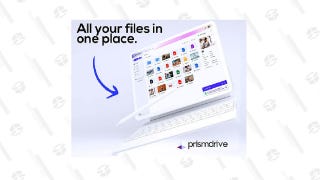 Save 97%
Prism Drive Secure Cloud Storage: Lifetime Subscription
That's right, think about, what's the next lightcycle? What's the next Enterprise? Then actualize your vision with video, After Effects and a ton of cursing.
Really go for it - think of this as a judgment-free zone. Put your work out there. Take a risk. Sure, you could make a parody, but a parody will never lead to the discovery of the next George Lucas...it'll just be the next George Lucas in Love.
How Do Video Challenges Work Again?
To keep the projects reasonable, all clips must be one minute or less and begin with content, not slates, credits, colorbars or countdowns. ALL CONTENT IN THEM MUST BE SHOT/CREATED SINCE THIS ANNOUNCEMENT. Entries will be due April 18th by 8am Eastern. Results will be posted later that week.
Become a member of our Vimeo group and add your video by the deadline. We'll then go through the submissions and highlight our favorites on Gizmodo.
The Example
The lead clip is an excerpt from Star Wars Uncut—which is Star Wars 1 (or 4 or whatever), reshot in 15-second clips by filmmakers around the world. It's fun and hilarious, but I'm more listing it so you can see what has been done. Thousands upon thousands of people have made b-movie Star Wars parodies now. It's very hard to add to that discussion at this point. Let's see the high end home sci-fi this time around.
The Technique
YouTube is full of incredible tutorials on creating homemade sci-fi effects—especially cloning Star Wars motifs. Of course, to create a sci-fi universe of your own, you have to come up with your own trick.
Rather than paste 100 tutorials here that you could easily search for, I'm going to recommend that video pros who don't do post production use the comments (and our vimeo page) to pair up. And if you're an expert in one thing or the other who can't find a partner, shoot me an email (mark@giz). No promises, but I'll try to help.
The Rules - READ THESE, SOME HAVE CHANGED
1. Submissions need to be your own.
2. Videos must be wholly created since this contest was announced.
3. Explain, briefly, the equipment, settings, technique and story behind shot.
4. Upload submissions to our vimeo page.
5. All clips must be one minute or less and begin with content, not slates, credits, colorbars or countdowns.
5. One submission per person.
6. You agree to the Standard Contest Rules.
7. If the image contains any material or elements that are not owned by you and/or which are subject to the rights of third parties, and/or if any persons appear in the image, you are responsible for obtaining, prior to submission of the photograph, any and all releases and consents necessary to permit the exhibition and use of the image in the manner set forth in these rules without additional compensation. If any person appearing in any image is under the age of majority in their state/province/territory of residence the signature of a parent or legal guardian is required on each release.
Mark Wilson is the founder of photography blog Life, Panoramic as well as Philanthroper, a daily deal site for nonprofits.