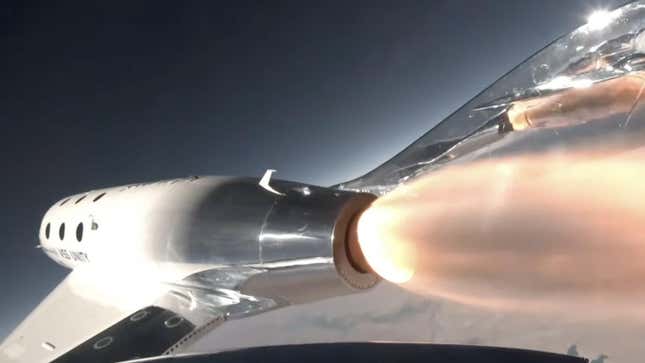 A crew of three private citizens reached suborbital heights on board Virgin Galactic's VSS Unity spacecraft, marking the company's second commercial flight and its first carrying space tourists.
Taylor Lorenz Talks "Extremely Online"
The Galactic 02 mission launched on Thursday at 10:30 a.m. ET from Spaceport America in New Mexico. Virgin Galactic's spaceplane, VSS Unity, was released from the carrier Eve at an altitude of 44,300 feet and reached a maximum speed of Mach 3. Unity flew to a maximum altitude of 55 miles (88 kilometers) above the surface, which is a few miles shy of the internationally recognized boundary of space known as the Kármán Line. The entire trip lasted for one hour before the spaceplane touched down.
On board Galactic 02 were three private passengers: British former Olympian Jon Goodwin, and Keisha Schahaff and Anastatia Mayers, the first mother-daughter duo to reach the edge of space. The latter secured their seats on the VSS Unity via the nonprofit organization, Space for Humanity.
"Jon, Keisha and Ana each embody our fundamental belief that space is for everyone, and we are proud that today's flight has inspired people and communities around the world," Michael Colglazier, CEO of Virgin Galactic, said in a statement.
The three space tourists were joined by two pilots, CJ Sturckow and Kelly Latimer, as well as Virgin Galactic's chief astronaut trainer Beth Moses. Latimer became the first woman pilot of a commercial spaceflight. "Going to space today fulfilled an ambition I've had since I was a child," Latimer said in a statement. "It is a privilege to be part of a majority-women crew making history as the most female astronauts flying to space in a single mission."
In this context, Virgin Galactic seems to have a rather flexible definition of "space," but you get our point.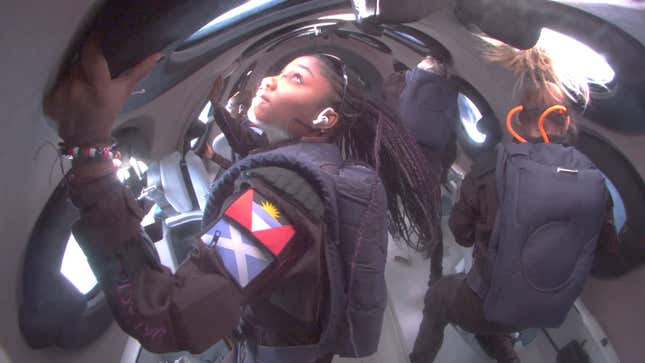 Virgin Galactic rolled out its commercial program with the launch of Galactic 01 on June 29, sending a three-person crew from the Italian Air Force and National Research Council of Italy to suborbital heights. Unlike Galactic 01, the follow-up mission did not include government customers, but instead private citizens. The company, founded by billionaire Richard Branson, announced that it was open for suborbital business earlier in June following the success of a suborbital test flight that took place on May 25. The test flight was the first time in two years that Virgin Galactic's spaceplane reached the edge of space.

Following the success of the first two missions, the company aims to launch a commercial crew monthly, concurrently developing its Delta Class spacecraft. These are engineered to embark on weekly flights starting from their anticipated 2026 debut. The company recently revealed, however, that it doesn't anticipate a lot of revenue to come in from its commercial flights.
For more spaceflight in your life, follow us on Twitter and bookmark Gizmodo's dedicated Spaceflight page.