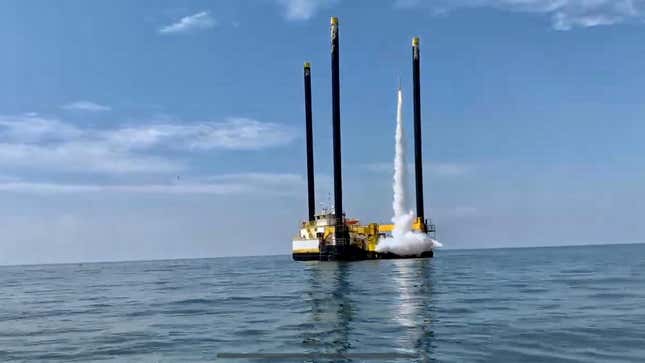 The Spaceport Company recently pulled off a series of rocket launches from a floating launch pad in the Gulf of Mexico, in its effort to create more options for rocket companies needing to reach space.
Better Mobility & Cameras: NASA & Axiom's New Spacesuits | Techmodo
On Monday, the Virginia-based startup announced its successful demonstration, marking the first set of rocket launches from U.S. territorial waters using a prototype mobile floating spaceport.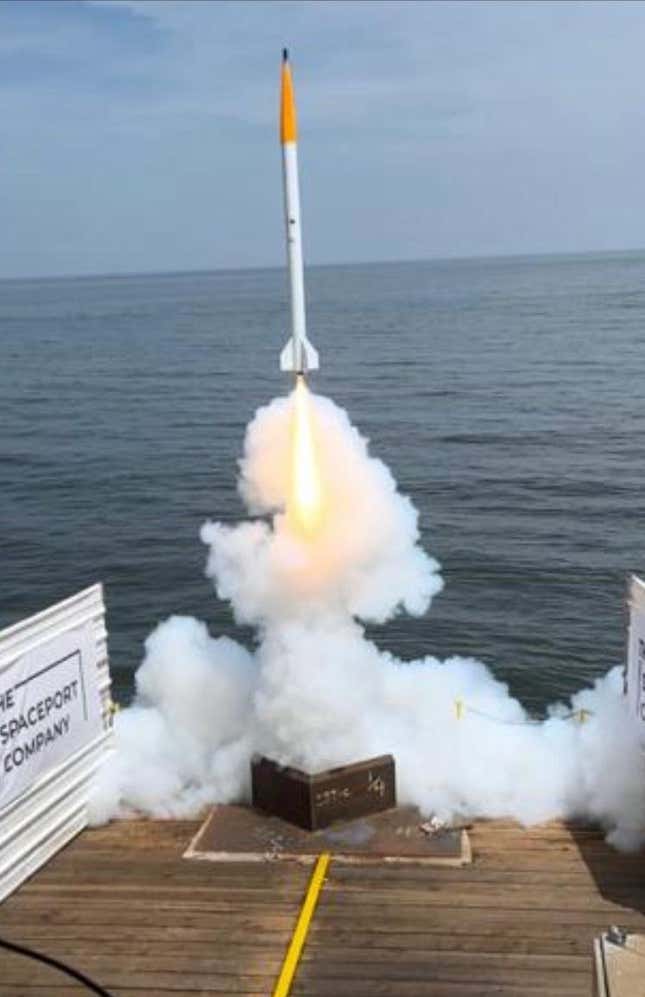 "This demonstration provided numerous lessons which will be incorporated into our next project: building a sea-based spaceport capable of orbital operations," Tom Marotta, founder and CEO of The Spaceport Company, said in the company statement. "We are working towards offering the U.S.'s first truly commercial spaceport, which can best support the rapidly growing commercial launch industry and alleviate the burdens on government ranges."
In partnership with Evolution Space, which is providing the required propulsion systems, The Spaceport Company launched four small sounding rockets from a modified ship floating in the Gulf of Mexico. The demonstration paves the way for orbital launches hosted on offshore platforms—an effort to decrease demand on terrestrial launch sites as the cadence of rocket launches continues to increase. The launch pace and resulting traffic at Cape Canaveral, Florida, is now so intense, for example, that U.S. Space Force is looking for alternatives, as SpaceNews reported earlier this month.
The company also claims that its offshore launches pose "less risk to the public and fewer environmental impacts than competing launch sites on land or overseas," The Spaceport Company wrote in its statement.
That rockets launched from land pose potential environmental harms is most certainly a topical issue. Elon Musk's private venture SpaceX is currently under heat following the first test flight of its megarocket Starship. The rocket caused some damage on the ground after blasting off from its launchpad in Boca Chica, Texas, sending a cloud of dust and debris to surrounding areas. As a result, conservation groups are suing the Federal Aviation Administration for granting SpaceX its launch license. SpaceX considered converting two oil rigs into marine launchpads for its Starship rocket, but the company recently decided to scrap that plan.
The idea of launching far from shore could resolve some environmental concerns on land, but it's not yet clear whether rocket launches at sea could also cause damage to marine life, or if offshore platforms are resilient enough to launch megarockets the likes of Starship. As for smaller rockets, that seems more feasible, as these recent tests suggest.
Future tests will have to determine if bigger rockets, especially those capable of reaching orbit, can launch from The Spaceport Company's facilities. Importantly, the company recently announced a partnership with Vaya Space to launch small rockets from its sea-based platforms staring in 2025.
As a concept, launching rockets from mobile sea platforms is nothing new. In 2019, China became the third country after the U.S. and Russia to do so.
 For more spaceflight in your life, follow us on Twitter and bookmark Gizmodo's dedicated Spaceflight page.