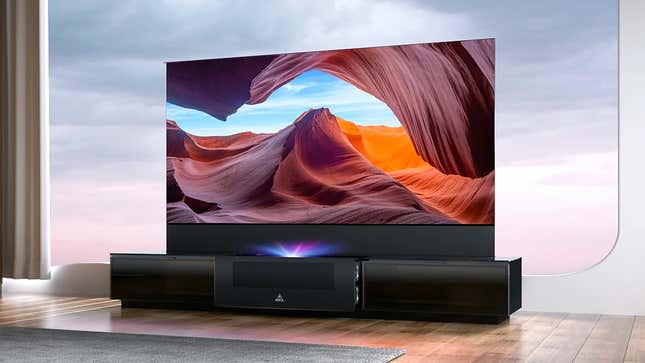 If you're looking for the big screen movie theater experience at home—we're talking 100+ inches—a projector is usually the most affordable way to go. But if money is no object and you'd rather skip the cumbersome setup, calibration, and screen mounting steps that usually come with a projector, AWOL's Vision Vanish packs a short-throw projector, speakers, and a retractable self-standing screen into a single cabinet.
Samsung Shows Off First LaserSlim OLED TV
Unlike a TV that you might just plop onto a cabinet or hang on a wall, projectors require a little more planning when it comes to turning a space into a home theater. Long-throw projectors that sit at the back of a room are cheaper, but people walking in and out of the room can cross the beam and block the projected image. Short-throw projectors solve that problem, but at an added cost. Despite the name, they also still often need to sit several inches from a wall to maximize the size of the projected image.
You can always use a big empty wall as a screen, but for optimal results, including on metrics like brightness, contrast, and accurate color reproduction, a highly-reflective projector screen is the preferred way to go. Unfortunately, this often requires complicated installation when going 100 inches and larger. It makes splurging on a giant TV seem like the easiest route, but AWOL's Vision Vanish looks like it solves many of the pain points of opting for a projector.

When installed, the Vision Vanish looks like a mostly non-descript eight to 10-foot long black cabinet, and it can even be used against a wall that's already covered in artwork, or one with a window, without affecting its performance.
At the press of a button, a hidden rolling screen automatically raises out of the back of the Vision Vanish cabinet, while a compartment at the front extends to reveal an AWOL LVT-3500 triple laser projector inside, which ends up positioned at the perfect distance to fill the screen once it's fully raised. The projector itself boats 3,500 ANSI lumens, HDR 10+ support, built-in 36-watt speakers, and the ability to display 3D content, for those still holding onto that dream.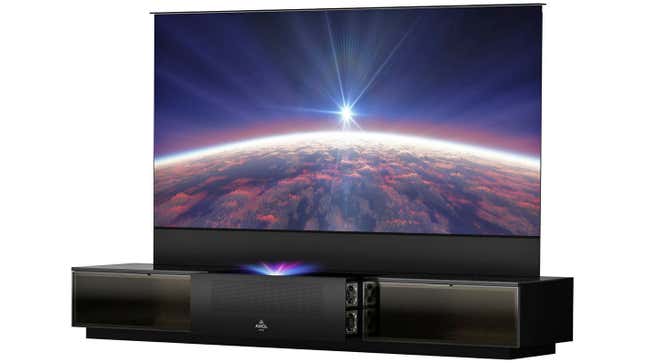 AWOL says the LVT-3500 laser projector included with the Vision Vanish is actually capable of projecting images up to 150-inches in size, but this all-in-one solution comes in two versions, with screen sizes limited to either 100 inches or 120 inches. And while that bundled laser projector currently sells for $4,600 all on its own, the complete Vision Vanish package, including the cabinet and pop-up screen, sells for $15,000 for the 100-inch version or $16,000 for the 120-inch one. Not cheap by any stretch of the imagination, and you can certainly put together your own short-throw projector and screen for a lot less money, but the appeal here is a solution that completely disappears when the movie is over, all at the push of a button.