Everybody is launching networked TVs it seems, but Vizio's "Connected HDTV" sounds killer: Built-in 802.11n Wi-Fi, with every service you'd want: Amazon, Blockbuster and Netflix VOD, Pandora, Flickr, Rhapsody, plus any other Yahoo widget.
Not there, you notice is Hulu. BUT, Vizio says they're in "deep talks" with them. So Hulu, directly integrated into your TV, looks likely. The connected platform runs on Yahoo widgets and Adobe Flash Lite, and you can develop your own widgets with Yahoo's SDK. It'll start in two TVs this fall, eventually expanding to Vizio's entire XVT line. Not all of the services were up and running, but overall, it looked and performed well—easy to use, and not intrusive.
G/O Media may get a commission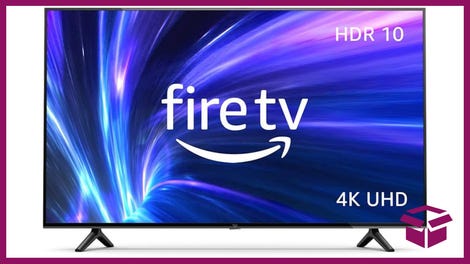 42% Off
Amazon Fire TV 50" 4K Smart TV
The crazyass QWERTY slider remote, on the other hand, might not be so simple, but it's fully Bluetooth 2.0 compliant, meaning you can do more than control your TV with it.
VIZIO ANNOUNCES NEW AND EXCITING "CONNECTED HDTV" PLATFORM WITH

WIRELESS CONNECTIVITY (802.11n)

- VIZIO's "Connected HDTV" Platform gives HDTV viewers unprecedented choice and access to

Internet-based content streamed directly to their VIZIO HDTV without the inconvenience and expense

of a PC or set top box.

- VIZIO's "Connected HDTV" Platform provides a fully customizable and dynamic entertainment

experience with built-in wireless (802.11n) to access on-demand movies, music, news, weather,

sports, gaming and social networking services.

- Content and service providers are rapidly expanding and now include Accedo Broadband, Adobe®,

Amazon®, Blockbuster®, Flickr®, Netflix®, Pandora, Rhapsody® and Yahoo! ®

LAS VEGAS, NV (CES) and IRVINE, CA - - January 7, 2009 - - VIZIO, America's TV and

Consumer Electronics Company, announced today the unveiling of its "Connected HDTV"

Platform, which enhances the HDTV viewing experience by bringing personalized

entertainment, information and social networking content into the viewer's living room. With

unprecedented choice and control of web-based and local content from a wide range of popular

content providers and services, including on-demand movies and music, news, weather, sports,

gaming and social networking services, this platform will be integrated as a key feature into

VIZIO televisions shipping to retailers nationwide this Fall 2009 in time for the busy holiday

season.

VIZIO's "Connected HDTV" Platform is designed to compliment TV viewing. At a single touch of

the VIZIO customized remote control, viewers can access their favorite Internet content from the

easy to navigate on screen display, without interrupting the TV program they are viewing. With

built-in wired and wireless (802.11n) networking, VIZIO televisions with the "Connected HDTV"

Platform will provide true plug-and-play connectivity right out of the box.

"In our recent report on the future of the television, Evolution of the Television - From Passive

Consumption Device to the Entertainment Center of the Home, we noted, 'The television has

evolved from a passive consumption device that received limited over-the air programming, to

the entertainment center of the home where multitudes of activities come together,'" stated

Nathan Safran, Analyst at Forrester Research, Inc. "While broadband set top boxes that deliver

content into the home are interesting because they establish a new way of delivering content to

the television, they have had limited appeal because of the up-front equipment outlay and

because content has been restricted to a single partner. However, when streaming media

capability is integrated directly into the network enabled television, it becomes a game changing

proposition, and is the next step in the evolution of the television, as it eliminates the equipment

outlay for the set top box and gives the viewer a broad range of content to choose from."

"As consumer demand for content and information grows exponentially, we want to address

what our customers are increasingly looking for – the ability to enjoy their favorite content and

services from the comfort of their living room easy chair," said Laynie Newsome, VP Sales and

Marketing Communication and Co-Founder of VIZIO.

Paul Gagnon, Director of North America TV Market Research at DisplaySearch also noted, "In a

hyper-connected world, TVs will start integrating more completely with the various sources of

available content. According to a recent study DisplaySearch conducted, 22% of respondents

wanted access to web-based information and more than 31% already watch movies from on-

demand services."

Along with the expectation of anywhere, anytime access, consumers crave variety and the

freedom to choose from a wide set of entertainment and information sources. "Our 'Connected

HDTV' Platform is a key element of VIZIO's Consumer Ecosystem, which places the VIZIO

HDTV as a focal point, allowing viewers to seamlessly connect to information and entertainment

sources that they want, when they want them," said Matthew McRae, VIZIO VP. "The platform

also provides an unprecedented opportunity for Internet-based service providers to develop and

deploy innovative applications to a large consumer audience."

VIZIO's "Connected HDTV" Platform will incorporate the Yahoo! Widget Engine, which provides

an open platform enabling a new class of Internet services, called TV Widgets, to thrive in the

TV environment. The platform will also include support for Adobe Flash LiteTM, which will

enable developers to deliver rich applications, content, and video over the Web to the television

itself.

Leading popular content and service providers are working with VIZIO's "Connected HDTV"

Platform to bring a very wide variety of entertainment, information, social networking and other

applications to consumers, including:

Accedo Broadband (www.accedobroadband.com) - Accedo's popular casual gaming service,

Funspot®, allows viewers to play a variety of fun games from the comfort of their favorite

armchair. Games include Texas Hold 'Em Poker, Sudoku, and QuizzMaster.

Adobe (www.adobe.com/flashplatform) - Adobe Flash® Player and Adobe Flash Lite are on

over 98 percent of connected computers and more than 800 million devices, and deliver more

than 80 percent of Web videos worldwide. Both players are part of the Adobe Flash Platform

and ensure that content and applications are presented consistently in the format users want.

Amazon Video on Demand (www.amazon.com/vod) - Amazon Video On Demand plans to

make its massive selection of over 40,000 movies and TV shows available to users of VIZIO's

"Connected HDTV" Platform, providing users with the total on demand entertainment solution.

Using the VIZIO television's built-in Internet connection, Amazon Video On Demand plans to

give customers the ability to browse, shop and instantly watch everything from hit new release

movies to classic movie favorites and individual TV episodes and seasons.

Blockbuster OnDemand (www.blockbuster.com) - One of the nation's leading digital movie

services, BLOCKBUSTER ONDEMAND makes thousands of titles, including the newest

releases, available for rental and purchase. The service is available on an a la carte basis, no

subscription necessary, and includes content from the major Hollywood studios as well as more

than 30 other studios, television-content distributors and foreign and independent content

providers.

Flickr (www.flickr.com) - Flickr, a Yahoo! company, is one of the world's leading online photo

and video sharing communities where people explore, find and manage pictures and video clips

of life's daily moments with friends, family and the world. The Flickr TV Widget helps users

make their favorite photo content available to the people who matter to them. Consumers can

view, share and organize photos with friends and family or check out what interesting new

photos were recently posted by others - all in the social setting of the living room on their large

flat panel television.

Netflix (www.netflix.com) - Since launching its streaming functionality in January 2007, Netflix

has grown its catalog to more than 12,000 choices of movies and TV episodes to watch

instantly on the TV via a number of Netflix ready devices. Netflix members pay as little as $8.99

per month for unlimited instant streaming and unlimited DVDs from a catalog of more than

100,000 DVD titles in more than 200 genres.

Pandora (www.pandora.com) - Based on the Music Genome Project begun in 2000,

Pandora's personalized Internet radio and music discovery service delivers personalized

playlists built from a database with over 550,000 songs analyzed by more than 30 trained

musicians and assessed against nearly 400 distinct musical attributes.

Rhapsody (www.rhapsody.com) - Rhapsody's award-winning digital music service gives

consumers access to more than six million songs on their PC, on their portable device and in

the home. Now, VIZIO "Connected HDTV"-enabled users will have living room access as well to

Rhapsody's extensive music catalog, professionally programmed music channels, personalized

recommendations and thousands of themed playlists.

Yahoo! - Yahoo! provides the best of the Internet in perfect harmony with the simplicity and

reliability of the television. The innovative Yahoo! Widget Engine, which will help drive VIZIO's

"Connected HDTV" Platform, will offer VIZIO customers an enhanced viewing experience by

bringing to market a new class of interactive applications called TV Widgets. Initial Yahoo! TV

Widgets available will include Yahoo! Weather, Yahoo! News, and Yahoo! Finance, soon to be

followed by Yahoo! Sports and Yahoo! Video. Yahoo! Video puts a wide range of news, sports,

lifestyle, and entertainment video content in one place for users to enjoy on their TV via the

Internet. Additional well-known content providers already developing TV Widgets for deployment

include CBS, Showtime®, TwitterTM, The New York Times® and MySpace®.

By collaborating with leading content, service and technology partners to create a truly

compelling and personalized user experience, VIZIO sees its new advanced platform as part of

its continual evolution to deliver consumers more of what they love. "The quality of the platform

partners that we are attracting validates our approach. Our partner list will continue to expand,"

stated Matthew McRae, VIZIO VP. "This platform offers innumerable opportunities given VIZIO's

hefty HDTV market share and growth expectations for the future."