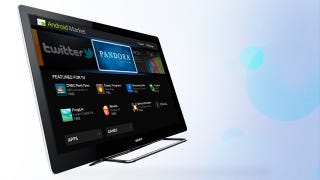 Last week we asked you to submit your brilliant ideas on how to make internet-accessible TVs—like the Sony® Internet TV powered by Google TV™—even better. And while all sorts of original ideas poured in (a particularly notable one being, "Bubby, the interactive crime solving App"), we had to narrow the selection to just a few truly great ones.
Now it's your turn to provide feedback! Read through our top 3 favorite submissions, and then vote below for which app idea you think has the most potential. The winner gets a $2,500 gift certificate to Sony, so consider carefully before choosing!
Entry 1, Todd F.:
The premise of the app is simple, Recommend other shows and/or movies to watch based on what you already watch. The biggest and the simple elegance of this application is it requires no real involvement other than installation (and some other potential features).

The Benefit: The end user gets access to other programs like the one's he's watching. This does not require additional users (but could be supported). A small family that has children will want to see recommendations for children's shows as well as shows for the adults. (However it will/can be set to require a pin for certain ratings to be seen on the display; such as, R, M+, but since it can be configured by the user it can be as low as G Only).

WHY IT IS AWESOME: Basically since it requires no real interaction other than watching TV it will build the list for you. Additional features could be added to import the list from Netflix (or other providers) to give real suggestions to your viewing habits to help you find additional shows that are easy to see.

Future features: Being able to attach the show to DVR, Go straight to Netflix/Amazon On demand, or the local cable providers On Demand applications.

The whole goal of the application is to broaden your horizon based upon your current habits. Much like Netflix has for movies and tv shows based upon your viewing habits.
Entry 2, William G.:
What about an "announcer" app? Basically, I find sports announcers incredibly boring and decidedly unfunny. What if I could be watching a sports game (but technically anything for that matter), and then use my little announcer app to search between people who voluntarily announce for that specific game in real time? Anyone can host a "channel" and people are free to listen to anyone commentating they choose. This app would give me the normal audio from the game but now with the announcers of my choice. Hopefully eventually some good announcers would get a lot of people listening to them and we wouldn't be stuck with the same old people every week. This could also work for other shows, ala Mystery Science Theater 3000, but would be great for sports. Imagine being able to watch a sports game with announcers who are actually interesting.
Entry 3, Yuri O.:
I would like to see drop down notifications like we have on our smart phones. One line of text and icons that slides out occasionally to give updates from active internet apps on the TV - like Facebook, Twitter, maybe an RSS reader.

The drop down app should be configurable so that the notifications can be moved to the top or bottom of the screen. It should be able to select which apps are connected and be easily enabled or disabled so we can turn it off when we don't want to be distracted by it or turn it on just briefly to check the status. While it is present, the remote can be used to navigate through the icons to get a single line of text with the most recent update from that app. The user can then click on an icon to be taken to the app.
Make your pick now, because voting closes on 11/25 at 6pm!
Standard contest rules apply. Open only to US residents. Readers may also enter by mailing their idea and their contact information to Gawker Media, Attn: Internet TV App Contest, 210 Elizabeth Street, Fourth Floor, New York NY 10012. The contest begins at 11:59am ET on November 11, 2011 and ends on November 16, 2011 at 11:59pm. *This contest is brought to you by Gawker Media. Sponsored by Sony.