Woz could redesign supercomputers before he kissed a girl, but what's impressive is that he's going to be dancing on TV in front of millions of watchers. This is true geek courage.
Anyone can do something they're good at. But last time I checked dancing was not one of the pillars of geekdom (programming, video games, math, science, social awkwardness). In fact, I can remember my first school dance in grade school, where the thought of moving my body to the music was so terrifying, I lied and told everyone I didn't feel good. I'm not sure I've progressed that far beyond these fears.
Maybe, just maybe, I thought, Woz was some secret dance maniac.
I wrote Woz and he replied back no, he wasn't a dance maniac, and that he was enjoying himself dancing, even losing 25 pounds but that learning a routine every 4 days was daunting. "Dance moves have never come to me easily, even the Macarena. If I focus on one foot issue, I totally forget my hands, and also what's coming next."
Even if none of his computer skills can help him here, I think his math skills can be put to good use. As Woz says, "Mark Cuban calculated that if the DWTS judges award you 0 points, and every other contestant gets 300 points, you only need a 6% advantage in the viewer votes to come in first place."
G/O Media may get a commission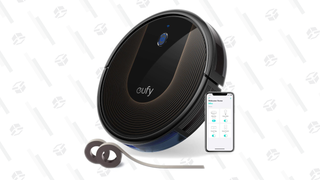 48% Off
Eufy BoostIQ RoboVac
If that's the case then 6% or fewer votes are all we need to get the big guy to number one. Are there enough geeks in the world to pull off this hack?
Dancing With the Stars starts tonight with at 7/8C