A feline-shaped comic book easter egg could be in Captain Marvel. No, you've not seen the first look at the Sonic the Hedgehog movie's Dr. Robotnik. Titans promises a bloodthirsty Dick Grayson. Plus, new looks at First Man and The Grinch, and cryptic clues for The Good Place's return. To me, my Spoilers!

Willow 2
Regarding a follow-up to Willow (which director Ron Howard previously said they were seriously considering), Warwick Davis revealed a roundtable conversation between himself, George Lucas, Ron Howard, Jon Kasdan, and Kathleen Kennedy took place aboard the Millennium Falcon on the set of Solo in a recent interview with Cinema Blend.
That would be hugely exciting. Revisiting Willow as a character, now he's older and wiser and perhaps even a better sorcerer, who knows by now, would be brilliant fun. I would absolutely love to do that. Ron and I we chatted about Willow quite a lot. Jon Kasdan who was obviously the screenwriter on Solo, he's a pretty big fan of Willow, it's one of the reasons he got into screenwriting and filmmaking. He and I talked a lot about where we could take Willow in the future.

I remember a particular day which was very special on Solo. I was working with the second unit and Ron, and I got a message through saying, 'oh George [Lucas] is here today, he'd like to see you.' So I went on set, it was the day they were on the Falcon. I remember myself, George, Jon Kasdan, Kathy Kennedy all chatting about Willow. I would think 'this is like the stars have aligned right here. If anybody's going to get a sequel or something else made in regard to Willow, this is it and this is the time to do it. Who knows, kind of watch this space, I guess.
---
The Batman
Both Josh Gad and I, Tonya's Paul Walter Hauser are actively campaigning to play The Penguin in Matt Reeves' The Batman, because that's what actors do on social media these days.
G/O Media may get a commission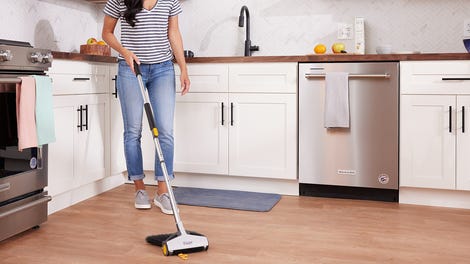 BOGO 50% Off
Flippr - BOGO 50% Off
---
Polar
Deadmau5 has signed on to score the film adaptation of the Dark Horse graphic novel, Polar: Came from the Cold.


---
Captain Marvel
Our own Deputy Editor Jill Pantozzi has discovered Captain Marvel's alien cat, Chewie, hidden in the left-hand corner of the latest poster.
---
Sonic the Hedgehog
A recent set photo has been misidentified as James Marsden sharing a scene with Jim Carrey's Dr. Robotnik but is actually actor Frank C. Turner in a currently undisclosed role.
---
It: Chapter 2
Just Jared has even more set photos of Pennywise the Clown.
---
Halloween
John Carpenter himself introduces a new international trailer alongside Jamie Lee Curtis.
---
The Grinch
Benedict Cumberbatch and Tyler the Creator are here to ruin Christmas in the final trailer for Illumination's The Grinch.
---
First Man
John F. Kennedy narrates a third trailer for Damien Chazelle's First Man.
---
Titans

Speaking with Entertainment Weekly, Geoff Johns confirmed the series will include the bloodthirstiest incarnation of Dick Grayson's Robin since Teen Titans GO!
It's definitely a Dick Grayson that's more violent than people are used to. It's definitely a Dick Grayson that is struggling more than I think people are used to.
---
The Defenders
The series' official Facebook account has been repurposed into a new page called NX (a brand previously established on Twitter), "the Netflix space to live everything super, sci-fi, the fantastic, and beyond." So, no, it doesn't look like a second season is happening anytime soon...
---
The Good Place
Spoiler TV has very vague synopses for the third and fourth episodes of season three, "The Brainy Bunch" and "The Snowplow."
THE BRAINY BUNCH

10/04/2018 (08:30PM - 09:00PM) (Thursday) : Michael's grand scheme hits an unexpected snag and forces him to take drastic measures.

THE SNOWPLOW

10/11/2018 (08:30PM - 09:00PM) (Thursday) : A surprising announcement from one of the humans threatens to dissolve the group.
---
Stranger Things
Speaking with THR, producer Shawn Levy revealed season three is set to wrap filming sometime in November.
---
The Purge
Spoiler TV has images from episode four of The Purge, "Release the Beast." More at the link.
Jane must leave the office. Lila consoles Jenna. Penelope is thrust into the Carnival of Flesh.
---
The Man in the High Castle
The Resistance raises a new flag in the latest trailer for season three.
---
Maniac
A VHS quality promo for the biotech company Neberdine Pharmaceutical aims for a Dharma Initiative-meets-Tim & Eric vibe for the series starring Emma Stone.
---
Charmed
Finally, the sisters are kidnapped by Rupert Evans in the latest TV spot for the Charmed reboot.
---
Banner art by Jim Cooke.