Being an Uber driver sucks. Being an Uber passenger sucks. Uber, as a company, sucks. So the recently uploaded video of a dumb drunk Uber passenger pummeling his driver with fists is hardly surprising. It is disturbing, however.
Uber driver Edward Caban was politely trying to get directions to his passenger's destination, but the passenger was too drunk to sit up straight. Caban then pulled into a parking lot and politely told the passenger that he was too drunk to give him directions so he had to end the trip. The drunk passenger was confused at first and then became violent, beating the driver with his fists. The driver magically produced some pepper spray and blasted the passenger, who would soon receive a free ride in a police car.
Caban uploaded his dashcam footage soon after the incident. What's unnerving about the situation—beyond the violence, of course—is the fact that this apparently happens kind of a lot with Uber drivers. Caban, for one, clearly sensed trouble because he spun the dash cam around just before ending the trip. He said in the video's caption that he wanted to show people what Uber drivers had to deal with.
It's unfortunate that the victims of Uber drivers' rage don't have an easy way to record the whole trip. Who knows what happens in the wild west of Uber when the camera's not rolling. The threat of violence while using Uber is something so thoroughly covered in the news, you have to wonder if riding in a stranger's car—or inviting a stranger to ride with you—actually is as dangerous as your parents said. At least in a yellow cab, there's a scratched up window between the driver and passenger, just in case things go south.
The passenger in this saga got arrested and charged with assault and public drunkenness. He's now banned from using Uber for life.
G/O Media may get a commission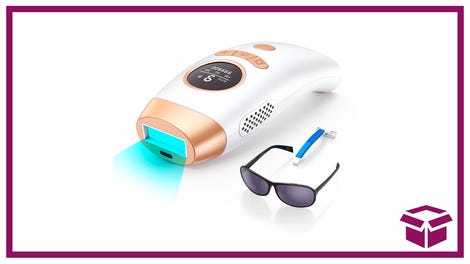 58% Off + Coupon
IPL Hair Removal Device
Update (6:50pm): The Uber passenger in question has been identified as Benjamin Golden, "an upper-level marketing executive for Taco Bell." He has been fired from Taco Bell and his mug shot is, well, it looks about right for a dude who slugged someone who was trying to help him get home safely:
[CNN]
Screenshot via YouTube