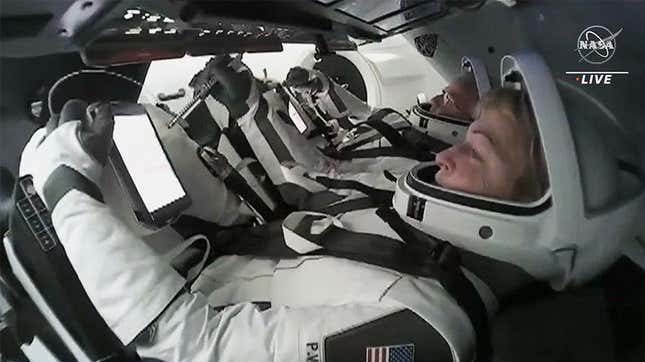 A SpaceX Dragon spacecraft carrying four private astronauts is making its way down from the International Space Station (ISS) and is set to splash down in Florida on Tuesday night. The ocean touchdown will be broadcast live.
Astronomers Could Soon Get Warnings When SpaceX Satellites Threaten Their View
After spending 10 days on board the ISS, The Axiom Mission 2 (Ax-2) crew is scheduled to return back to Earth on May 30 around 11:04 p.m. ET. The crew aboard the Dragon spacecraft, nicknamed Freedom, will splashdown off the coast of Tampa, Florida.
Update: May 31, 9:30 a.m.: The Freedom spacecraft splashed down off the coast of Panama City, Florida at 11:04 p.m. ET.
Original article follows.
Axiom Space will broadcast its crew's return through the company's website, as well as its YouTube Channel. SpaceX will also broadcast a live feed of the ocean splashdown on its website. Alternatively, you can tune in through the feed below, which is set to begin at 10:00 p.m. ET.
The Dragon spacecraft undocked from the space station's Harmony module at 11:05 a.m. ET on Tuesday, carrying the four-person crew back to Earth and officially wrapping up the Ax-2 mission.
Axiom Space launched its second private mission to the ISS on May 21. The mission was led by veteran astronaut Peggy Whitson, who is currently Axiom Space's Director of Human Spaceflight. Saudi Arabia bought two tickets for its astronauts on board Ax-2, mission specialists Ali Alqarni and Rayyanah Barnawi, while pilot John Shoffner purchased his own ticket to space through the company in 2021. Aside from Whitson, the three remaining crew members had never been to space before.
The Ax-2 crew joined the seven members of the Expedition 69 crew on board the ISS, bringing the total number of astronauts aboard the space station to 11. The four-person crew conducted more than 20 scientific experiments, including one to examine the effects of microgravity on the production of stem cells. Aside from the crew, the SpaceX Dragon is also carrying more than 300 pounds (130 kilograms) of cargo and data, according to Axiom Space.
Ax-2 is a follow up to Axiom Space's first mission to the space station, which launched in April 2022. The private company is already planning for the launch of its third mission to the ISS, currently scheduled for later this year.
For more spaceflight in your life, follow us on Twitter and bookmark Gizmodo's dedicated Spaceflight Spaceflight page.