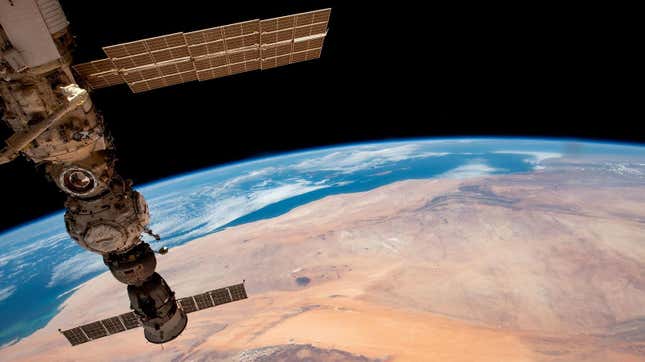 Russian cosmonauts Sergey Prokopyev and Dmitry Petelin are about to step outside the International Space Station (ISS) for the pair's second extravehicular activity this year.
Three Astronauts May Be Stranded on the ISS After Disturbing Soyuz Coolant Leak
The spacewalk is scheduled to begin at 4:05 p.m. ET on Wednesday, according to NASA. The action will be broadcast live on NASA TV, as well as the space agency's website. You can also tune into the orbital activity through the feed below. The live coverage will begin at 3:30 p.m. ET.
Cosmonauts Prokopyev and Petelin are set to spend about six and a half hours outside the space station relocating an experiment airlock from one module to another.
The duo will remove the airlock from the Rassvet module, disconnecting various cables and removing the airlock's thermal insulation from its docking section, Russian state news agency TASS reported. From inside the space station, cosmonaut Audrey Fedyaev will use the European Space Agency's robotic arm to transport the airlock to the Nauka module while the spacewalking cosmonauts outside the ISS will work to reconnect the airlock's cables to its new module.
The spacewalk was originally scheduled for April 26, but was later postponed "due to the need for a more detailed study of its tasks," Russia's space agency wrote in a statement.
This is the pair's second spacewalk this year, having already ventured outside the ISS for nearly eight hours on April 19 to install a radiator on the Nauka science module. Before that, Prokopyev and Petelin had a less than perfect experience during their first spacewalk together in November 2022, when a spacesuit malfunction cut the extravehicular activity short. Prokopyev's spacesuit had faulty pumps connected to its cooling system, rendering it unusable.
For more spaceflight in your life, follow us on Twitter and bookmark Gizmodo's dedicated Spaceflight page.