The intercom in Mr. Haywood's office has the power to turn a corporate shark into a ravening sex-beast at the flick of a button, in The Ultimate Attraction. Scifi is full of devices that can crank up anyone's sex drive to 150 percent, including sex-rays, drugs and alien organisms. Click through for our roundup of the craziest aphrodisiacs in science fiction, but watch out: It's all work-safe, as long as you don't watch some of the NSFW clips.
I'm Not Feeling Myself Tonight (1975). One of those bizarre Britsploitation films that could only have come from the groovy 70s. Barry Andrews is a virgin who goes to work in a weird sex research institute, where patients run around naked and everybody does nude aerobics. But Andrews still can't seduce the hot secretary — until he invents a machine (nicknamed Agnes for some reason) which puts out a "sonic aphrodisiac" which turns anyone into a sex maniac. Andrews doesn't quite manage to seduce Cheryl the secretary, but does have fun using Agnes on his overbearing boss, and a pesky woman who's campaigning for moral decency.
Randy The Electric Lady (1978). Desiree Cousteau plays Randy, who's having a hard time reaching climax — until she goes to a weird sex clinic, where she manages to climax so hard, she explodes all their computers and measuring instruments. Then the researchers realize that Randy secretes a special substance called Orgasmine when she climaxes, and everybody who's exposed to Orgasmine turns into an easily controlled sex rabbit. Of course, being a mad sex doctor, the head researcher Dr. Harrison wants to use Orgasmine to RULE THE WORLD! Bwa ha ha ha....
The Ultimate Attraction (1998). The source of the clip featured above. Written by scifi pornmaster Rolfe Kanefsky, Ultimate is loosely (and I stress "loosely") based on the classic comic Click by Milo Manara. But whereas in Manara's comic, a woman has a brain implant that cranks up her sex drive at the twist of a dial, Kanefsky's version is a directional beam that affects anyone you point it at. And somehow, in the course of Ultimate's storyline about a troubled mom-and-pop gym that finds a sex-ray, the device gets changed so that any electrical device can turn into a horniness inducer. Like the boombox in this clip, where a bodybuilder's walkman runs out of batteries:
Flesh Gordon (1974). The Emperor Wang is using a "sex ray" to turn everyone on Earth into uncontrollable sex maniacs. So it's up to Flesh and his friends to stop him. At least it's better than the awful sequel, in which a supervillain tries to use an "impotence ray" to rob Earth of all its virility. Ugh.
G/O Media may get a commission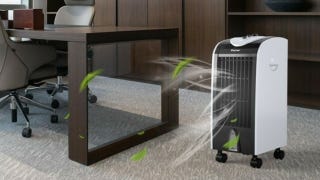 Save $10
Evaporative Portable Air Conditioner Cooler with Filter Knob
Flash Gordon (1980). Weirdly enough, both Gordon films feature the villain using technology to make people into sex-fiends. In Flash, Ming uses his weird power ring to hypnotize Dale Arden into performing a sexy dance for him.
Shivers (1975). David Cronenberg's third film includes much of the "body horror" for which he became famous. A parasite which scientists developed to replace damaged or diseased organs goes out of control and starts turning men and women into sexual predators. The host can only spread by having its victims sexually overwhelm other people, and a new self-contained tower building becomes a perfect breeding ground. There are lots of bloody scenes of mangled faces, and then it ends up with the world's most disturbing pool party:
Torchwood, "Day One" Trust crazy Doctor Who spinoff Torchwood to go way, way over the top when it comes to alien sex-parasites. A purpley gas takes over Carys, a lovelorn woman, and turns her into a hot sexpot who goes around seducing men... and then reducing them to a little powder when they orgasm. She seems to have the power to sex-craze other people too, since she's able to get the straight (as far as we know) Gwen into a hot snog-a-thon. Here's her best moment:
The Curious Dr. Humpp (1966). We've already sung the praises of this bizarre hybrid movie. Dr. Hummp needs to absorb the erotic energy from rabbiting nymphomaniacs to keep himself and his pet brain healthy, so he kidnaps nubile young people and keeps dosing them with powerful aphrodisiacs to keep them in the mood.