Now that the Hunger Games trilogy is over, what's the next dystopian saga for teens (and loads of adults) to sink into? One title that's being mentioned is Ally Condie's Matched. Here's your exclusive first look at the book trailer.
Matched is being pitched as "Brave New World meets The Handmaid's Tale," and it comes with a pre-sharpened love triangle. USA Today mentioned it as one of the dystopian teen novels to watch out for in the wake of Mockingjay, and it's already been optioned as a film by Disney and Offspring Entertainment.
Here's the blurb:
Cassia has always trusted the Society to make the right choices for her: what to read, what to watch, what to believe, and when to die. It's a small price to pay for a long life of perfection. The Society is entrusted to select your ideal mate, and Cassia has looked forward to her Matching Banquet for as long as she can remember. So when her best friend Xander appears on-screen, Cassia knows with complete certainty that he is her perfect match… until she sees Ky Markham's face flash for an instant before the screen fades to black. Now Cassia is faced with impossible choices: between Xander and Ky, between the only life she's known and a path no one else has ever dared follow. How do you know what to decide when you've never had an option? What happens when love can destroy a seemingly infallible world? In MATCHED, Ally Condie debates perfection and passion, security and uncertainty. It's a suspenseful romance and compelling adventure set in a not-so-distant future, and every element of the world feels frighteningly real.
G/O Media may get a commission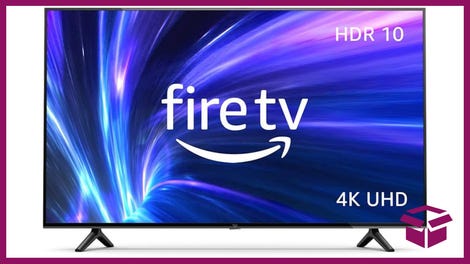 42% Off
Amazon Fire TV 50" 4K Smart TV
Find out more at the link. [Matched-Book.com]