The NROL-42 spy satellite was launched atop an Atlas V rocket from California's Vandenberg Air Force Base early on Sunday morning, Eastern time. And while we don't know anything about the tech specs or what it will be spying on, it's a safe bet to say that it's part of the most advanced spying apparatus the world has ever known.

"This launch is the culmination of many months of work by United Launch Alliance, the National Reconnaissance Office and the 30th Space Wing," said Col. Gregory Wood, 30th Space Wing vice commander, in a statement. "All of Team Vandenberg is dedicated to mission success and proud to play a part in delivering these capabilities to our nation."
Again, we don't really know what those capabilities are, but we'll take your word for it. The video of yesterday's launch is on YouTube. And it's quite a sight to behold.
As Space.com notes, this is the 15th time that the NRO has used the Atlas V rocket to put a payload into space. The United Launch Alliance, a joint business venture between defense companies Lockheed Martin and Boeing, assisted the US Air Force in the launch.

From Space.com:
The Atlas V has now flown 73 times since its 2002 debut and has not suffered a single mission failure. Notable payloads launched by the rocket include NASA's Mars rover Curiosity, the New Horizons spacecraft and the OSIRIS-REx asteroid-sampling probe, as well as the U.S. Air Force's robotic X-37B space plane. (The first four X-37B missions employed Atlas V rockets, though the fifth, which launched earlier this month, reached orbit atop a SpaceX Falcon 9 booster.)
G/O Media may get a commission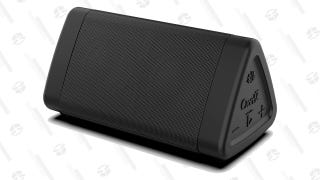 Save 31%
Oontz Angle 3 Portable Bluetooth Speaker
"This launch is a prime example of teamwork by multiple organizations that have worked around the clock to assure mission safety and security," said Lt. Col. Kenneth Decker, 4th Space Launch Squadron commander, in a statement. "Given the dedication of the men and women have worked to ensure readiness of the launch vehicle and payload, we're on track for a successful launch."
The National Reconnaissance Office (NRO) isn't a household name like the CIA or the NSA. But with a budget of roughly $10 billion per year (even the NRO's budget is classified) it probably gets a lot done. Again, we'll have to take the military and intelligence community's word for it.
Maybe one day we'll learn what this weekend's launch was about, but I'm not going to hold my breath. Even the payloads of the 1980s that were placed on the Space Shuttle are tightly guarded secrets. But we can dream.