Have they cast the not-Lex Luthor villain for Man of Steel 2? Katee Sackhoff is insistent about not being in Star Wars. Go behind the scenes of The Hobbit with three new videos. There's Warcraft casting, and Orphan Black hints. Plus, the Amazing Spider-Man 2 cast breaks down the trailer. Spoilers now!
X-Men: Apocalypse
We know what the next X-Men movie will be about and when we'll see it. Bryan Singer tweeted:
#X-Men #Apocalypse 2016
This was followed by a report from Box Office Mojo that Fox had confirmed that the next X-Men movie would arrive on May 27, 2016 and would be called X-Men: Apocalypse. The name and the tweet seem to confirm that the next movie would feature one of the most powerful X-Men villains: Apocalypse, whose comics counterpart believes in mutants supplanting humans and enslaves humanity with that in mind.
Also hinted at here is that Bryan Singer will still be on board for that movie, since he's tweeting about it. [Coming Soon]
---
Batman Vs. Superman
Current reports have Callan Mulvey as the possible villain for the Man of Steel sequel. But the 300: Rise of an Empire star doesn't seem to fit the mold for Lex Luthor, who's been hinted at as the main villain for a while. He matches more comfortably the role of Doomsday, the other rumored villain. So, if Mulvey really is a frontrunner, it may be under the CGI layers of Doomsday. [Sci Fi Now]
G/O Media may get a commission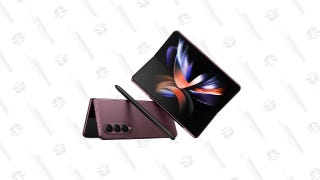 Save Up to $300
Galaxy Z Fold4
---
Star Wars
Oh, Michael B. Jordan, I feel for you having to constantly address casting rumors. On Star Wars and Fantastic Four, he recently said:
With the Star Wars and all these other franchises, Fantastic Four and stuff like that, it's good to be in the mix of those conversations. You know, it wasn't like that before, so it's kind of cool to be in those conversations right now.
That's nicely ambiguous. Katee Sackhoff, on the other hand, is less so when addressing the rumors about her:
Big things happening people...I wish I could tell ya about them but that would ruin the fun surprises. Xoxo No not #StarWars stop asking! ;)
Finally, David Prowse would like to return in some way, even though his Darth Vader was killed off in Return of the Jedi. He says he could still play a role, since his face was never seen. [Slashfilm]
---
I Walk With the Dead
Nicolas Winding Refn's all-female horror film may still be just in the discussion phase, but Carey Mulligan's willing to wait until whenever to work with Refn again. She recently said:
I don't know what it is yet. That's all in his mind.

I'll go with him, I'll go anywhere with him, because I think he's just such a brilliant filmmaker, but that's never been more than the two of us saying we'll make a film together again.

. . . I lived with him and his family when we were filming Drive, and we really liked working together and wanted to do something where I had more to do. And so he always talked about doing this film called I Walk With The Dead, and then he announced it at a film festival in a middle of an interview and it turned into a thing.

. . . We're in contact all the time, but we haven't sat down to talk about what it's going to be. I mean, it could happen in 10 years, but I hope it happens eventually. I'd love to work with him again.
---
Chronicles of Narnia: The Silver Chair
The fourth Narnia movie will be written by David Magee, who wrote Life of Pi. [Slashfilm]
---
Warcraft
There's no information about what the roles are yet, but we do know that three leads have been cast. They are: Ben Foster (3:10 to Yuma), Toby Kebbell ( Wrath of the Titans), and Rob Kazinsky (True Blood). Dominic Cooper is in negotiations to be the fourth. [First Showing]
---
The Amazing Spider-Man 2
We broke down the trailer, but here's the cast discussing the key moments. [via Coming Soon]
---
The Hobbit: The Desolation of Smaug
Here are three behind-the-scenes clips. [SpoilerTV]
---
Star Wars: Rebels
Greg Weisman's interview in Star Wars Insider #146 has a little bit more information on the show's main characters. He said:
We have two strong female leads in the show among our set of characters and we think they are going to be fan favorites very quickly. That's always been a personal priority for me in all the work I've done, to have a strong and diverse cast of characters, both in terms of gender and race.
---
Orphan Black
Creators John Fawcett and Graeme Manson previewed how they'll keep the momentum from season one going through season two:
FAWCETT: Even as a villain, Rachel is going to hold a lot of surprises for us. She's been a really fun nemesis for Sarah.

EW: Season 1 on any show is all about introducing the story and the characters, and it's essentially setting the table. And if you do it right, a lot people want to come sit down at that table. But now, in season 2 what do you do to keep them sitting there?

MANSON: Right off the bat we've really hit the ground running. We left a lot up in the air, so it's been a lot of fun figuring out how and when and where those balls land and how they land in unexpected ways. As for Rachel, we did leave last season knowing that Rachel was a child of Neolution, therefore much connected to the origins of the experiment. So I think Rachel is going to help to open a window for us and we 're going to begin to understand a lot more about the conspiracy.

FAWCETT: Plus, I also think one of the big things we're going to have to deal with in season 2, which is finding its own twists and turns, is Cosima's illness. And that is a very pressing bit of drama that is not just straight ahead. It's got a lot of mystery to it. It's got a lot of twists and turns to it and it is thematically a big part of season 2 also.

MANSON: It's a genetic mystery. It's a genetic biological mystery and it feeds into some of our body horror and it feeds into our science mystery.

EW: Body horror! Nice! Okay, so would it be safe to assume we will be seeing some new clones this season?
FAWCETT: I think of course it's safe to assume that. We are really excited about doing that. We want to do it in a way that is unexpected. We want to do it at a time that's unexpected. But it is obviously something that we talk about a lot. And it's part of the fun of making Orphan Black and making a show about clones is that we can be having those discussions. We have some surprises in store.
And there was also a new image, showing Sarah pressing a gun to the face of Rachel. The image is below, and more from the creators at the link. [Entertainment Weekly]
---
Intelligence
Here's a brand new poster for the new show featuring Josh Holloway as a superspy with a chip in his head "that allows him to be connected directly into the global information grid and have complete access to Internet, WiFi, telephone and satellite data. So he's basically the best hacker ever, times a thousand." [E! Online]
---
Once Upon a Time
Alexandra Metz has been cast to play Rapunzel. For now, it's just in one episode, but you never know on Once, it could be more. [Entertainment Weekly]
Rebecca Mader (Lost) has been cast as one of the recurring villains in the second half of this season. They won't reveal who she's playing yet, but the midseason finale on December 15th will show her and what character she is in the promo for the second half of season three. [E! Online]
---
Tomorrow People
James Landry Hebert (Gangster Squad) will play a hitman with teleportation and psychic powers called "The Wraith." The appearance of the Wraith will raise questions about whether he, and Tomorrow People in general, "evolve naturally" into killers or if he's just a rogue experiment of Jedikiah's. [TV Guide]
And if you wondering how much danger Morgan's in, Mark Pellegrino has your answer (Hint: it's a lot):
She's in a great deal of danger and it forces Jedikiah's hand in some ways to do something you'll find interesting. It adds another wrinkle. (Laughs.) A lot of wrinkles on this show. Jedikiah does something in episode nine that is a little bizarre, a little scary, but it's all for effect. I'm interested in seeing where the link goes because it makes me think there is a technique in hiding your inner self from a telepath and Jedikiah knows what that is. Maybe there's a reason why Jedikiah is so elusive.
---
Dominion
The TV show based on the film Legion is out of development and officially greenlitfor a pilot on Syfy. Wondering how the Paul Bettany-starring film will translate to TV? Here's a description:
"Dominion" is an epic supernatural drama set in the year 25 A.E. In this transformed post-apocalyptic future an army of lower angels, assembled by the archangel Gabriel, has waged a war of possession against mankind. The archangel Michael, turning against his own kind, has chosen to side with humanity against Gabriel. Rising out of the ashes of the 25 year-long battle are newly fortified cities which protect the human survivors. In Vega (formerly Las Vegas), the largest of these cities, two houses vie for control and the stage is set for political upheaval and a dangerous power shift. Meanwhile, a rebellious young soldier begins a perilous journey as the war between the human race and the fallen angels hell-bent on their domination escalates.
---
American Horror Story
The future of Kathy Bates' Madame LaLaurie, after her beheading, is going to be the basis for the whole winter finale, according to Ryan Murphy:
. . . we've established that LaLaurie's punishment is that she can live forever so she's a character who can't be killed. So at a certain point, as she even says in the episode, she learned like, "F*** you. You can do whatever you want." So you're like What could Marie do to her that would be heinous? And then what could we follow with that to make it even more heinous? So when we came up with the idea that she would definitely cut off her head, we decided that wasn't enough and that Gabourey Sidibe had to do something that would make it even worse. Then we came up with that which is one of my favorite things we've ever done. Then we came up with a whole episode which is the winter cliffhanger called "Head" where we follow the travails of Kathy Bates' head and things happen to other characters' literal heads or intellects or brain power. She's such a villain yet Kathy's so empathetic so it's become this weird thing where I'm shocked that people are rooting for Madame LaLaurie. I think what happens in the winter cliffhanger "Head" is beyond hilarious.
Murphy also says that "Head" will have a lot of deaths and teased us with a Patti Lupone singing scene:
In the next episode, Joan is alive and her son is in a coma. She finally has to deal with the fact that the ladies next door are witches whom she hates but who can help her, particularly Nan who is a clairvoyant. Also, we give the nation and the world Patti Lupines singing a spiritual, which is a great moment for her. I think "Head" is my favorite episode of the season. What Patti LuPone does. The return of Myrtle Snow. There's some great stuff—Jessica stuff, Sarah stuff, Emma stuff. I'm really excited for people to see that winter cliffhanger because it's pretty amazing. Angela stuff. Gabourey. It's some of the best work of the season.
He also said that Stevie Nicks will back for episode ten and that she actually made a suggestion that made it into the show. More at the link. [Entertainment Weekly]
Here's a promo for "Head." [via SpoilerTV]
---
Beauty and the Beast
Tom Everett Scott, formerly of Southland, is joining the cast as the recurring character of Sam. Sam'll be an archaeologist who has been in isolation for a while and has a quick temper. [TV Guide]
---
Arrow
Here's a promo for "Three Ghosts," the midseason finale. [via SpoilerTV]
---
The Vampire Diaries
In the midseasonfinale, airing Dec. 12, Elena becomes Dr. Wes' next test subject and Damon has to find her before it's too late. Ian Somerhalder describes the episode as "beautifully haunting." [TV Guide]
And here's a complete set of images from that episode. [SpoilerTV]
---
Once Upon a Time in Wonderland
Here's the description of episode eight, "Home":
In flashback, we learn about Cyrus' origin story while Alice seeks out the White Rabbit for answers involving his actions in Wonderland. Meanwhile, the Red Queen and Jafar's disdain for one another comes to a head, followed by a series of chaotic events. The insurmountable consequence caused by their showdown will put everyone in danger and lead to a drastic change, on "Once Upon a Time in Wonderland," THURSDAY, DECEMBER 12 (8:00-9:00 p.m., ET) on the ABC Television Network.
---
Lost Girl
Here are the titles and short synopses of episodes 4.07 and 4.08:
Episode 4.07 - La Fae Époque

Bo and Lauren delve into Dyson's memory when he's on trial for murder.


Episode 4.08 - Groundhog Fae

Bo's friends are having to much fun celebrating the Yule to realize that she has gone missing. But when the night starts repeating itself, Bo makes it her mission to stop it. Meanwhile, Lauren and Dyson disagree over a mysterious package addressed to Bo.
And here are two trailers for season four. [TV Equals]
Additional reporting by Charlie Jane Anders and Emily Stamm