The Terminator franchise might not be as in a dire state as we thought. Woody Harrelson hypes up the Han Solo spinoff. Doctor Who's next season has a big three-parter with some new villains. Plus, speedy set pictures from Black Panther, and a new look at Ward's return on Agents of SHIELD. To me, my spoilers!
Beauty & the Beast
Deadline reports there will be no direct sequels to the live-action Beauty & the Beast, but "spinoff and prequel scenarios" are still on the table, according to Disney's Sean Bailey. I know a few people who would really, really like a Gaston prequel.
---
Terminator 6
Contrary to yesterday's bleak forecast regarding the future of the Terminator franchise, Skydance producer David Ellison told Collider that a big announcement is still on the way.
I will say we have resolved the future of the franchise and believe me its an incredibly bright future. I think where it's going will be the continuation of what the fans really wanted since T2.

We have something this year that we will be announcing for the franchise. It's something we're incredibly excited about and we think is the direction it needs to head.
G/O Media may get a commission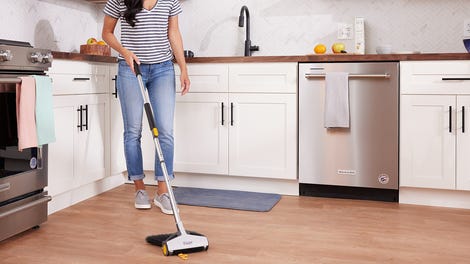 BOGO 50% Off
Flippr - BOGO 50% Off
---
World War Z 2
In a separate interview with Collider, Ellison confirmed they're still looking at David Fincher to direct the sequel to the zombie apocalypse film:
There's a script that we're incredibly happy with, and it's just getting a couple of key deals closed… We hope [Fincher] makes the movie.
---
Han Solo
More from Collider, this time with Woody Harrelson boldly proclaiming the Han Solo spinoff movie might be the best Star Wars of them all:
They're great. You know, any movie's only as good as the director or in this case directors, and so I have a suspicion, because if you look at the whole, all the movies, the backlog of every one of these movies, there's a lot of great stuff, but one might not be not as good with the writing in this or the acting in that or the directing in that, this has great actors, great directors, great script, and I really feel like we're gonna make the best one.
---
Mission: Impossible 6
Rebecca Ferguson, who will reprise her role as Ilsa Faust in the sequel, revealed she's filming scenes in New Zealand and Paris:
I miss her. I think she is such an incredible, strong, independent, vulnerable human being, and I miss the stunt… I'm doing stunt work right now, so I'm not missing it. I'm on break for a minute. But it's lovely going into it not knowing what the big sequences are going to be. Because they don't really present it all at once, and then you train for it. You train in martial arts, and you learn the technique, and then you break it up, and from that comes movement. I'm going to New Zealand and Paris!
---
Jurassic World 2
Director J.A. Bayona shared a set photo of 11 puppeteers operating a dinosaur (not pictured, sadly) on Twitter.


---
Power Rangers
Syfy Wire has interviews with all five Power Rangers.
---
Black Panther
Some very dynamic set pics from the film's shoot in South Korea have surfaced. Coming Soon has a few more of the empty street before Black Panther zooms in. T'Challa does love his car chases, doesn't he?


---
Wonder Woman
The MPAA has rated the film PG-13 for "sequences of violence and action, and some suggestive content."
---
Guardians of the Galaxy Vol. 2
Rocket coins a new title for Star-Lord in the latest TV spot.
And here's the cover of the new issue of Empire and its subscriber variant, giving us another look at the crew in action (and a very adorable Groot).
---
Pirates of the Caribbean: Dead Man's Chest
Coming Soon has a ton of new photos. Head over there to see the rest.
---
Philip K. Dick's Electric Dreams
Timothy Spall has been cast as Ed Jacobson in the series' premiere episode, an adaptation of The Commuter. [Den of Geek]
---
Arrow
In tonight's episode, Adrian Chase will expose a secret of Oliver's that is "going to have ramifications for the remainder of the season, if not the whole series" according to executive producer Marc Guggenheim. At Paleyfest, Stephen Amell admitted to feeling "incredible levels of anxiety" during filming.
I felt like if there was a misstep, it might be something we couldn't come back from.
[TV Line]
---
Doctor Who
Episodes 6-8 will be a three-part episode focusing on sinister new villains called The Monks. Toby Whithouse told Digital Spy that Steven Moffat wrote episode six, Peter Harness wrote episode seven and Whithouse himself wrote episode eight:
Mine is the third part of a three-parter – Steven [Moffat]'s done the first one, Peter Harness did the second and I've done the third.
---
Star Wars Rebels
Don't expect Dash Rendar to make an appearance, according to Gary Whitta in a recent interview with Screen Rant. Half of Lucasfilm hates the star of the 1996 multimedia event, Shadows of the Empire.
Okay, can you do us a favor? Can you bring in Dash Rendar from Shadow of the Empire to Rebels?

Gary Whitta: You know, there are certain people at Lucasfilm that would hang you from a tree for saying something like that.


[Laughs]


Gary Whitta: He's a very polarizing character! People either love Dash or they hate him.

Aw.

Gary Whitta: But obviously, one of the great things about Rebels is you get to introduce characters from the wider pantheon of Star Wars. One of the coolest things with season 3 is that we got to bring in Thrawn intro the canon and make him an essential character on the show. So I think they're always looking for those opportunities but the people who work at Lucasfilm are very aware of not doing stuff necessarily just for fan service, you do it because it's something the show needs or can benefit from rather than just 'throw this in there because it's an Easter Egg and someone will notice.'
---
Powerless
Natalie Morales debuts as Green Fury, better known as Beatriz da Costa, or Fire, in the synopsis for episode nine, "Van v Emily: Dawn of Justice."
When Emily (Vanessa Hudgens) has to put up a fight to get her own office, she challenges Van (Alan Tudyk) to a competition. Meanwhile, after Teddy's (Danny Pudi) life is saved by Green Fury (guest star Natalie Morales), he goes to great lengths to see her again.
Say what you will about Powerless so far, but that's a great title for an episode. [Spoiler TV]
---
Agents of SHIELD
Brett Dalton's Ward returns in a new photo from April 4's episode, "What If..." See two more from the episode at the link. [Ksite TV]


---
Once Upon a Time
Here's the synopsis for Sunday's episode, "Page 23."
Believing there isn't room in Storybrooke for both her and Regina, the Evil Queen sets out to eliminate her other half using Robin to bait the trap. Hook, determined to make things work with Emma, turns to his old friend Capt. Nemo for advice, but Gideon torpedoes his plan before he's able to set things right. In a flashback to the Enchanted Forest, the Evil Queen learns a surprising lesson about the true source of her misery.
Finally, KSiteTV has many pictures of the Evil Queen from the episode, but her nice-looking carriage below is the best of the lot. That's villainy with style right there.


---
Additional reporting by Gordon Jackson. Banner art by Jim Cooke.