It's drone season! It's gorgeous out there and the world is full of beautiful scenes that need recording with a drone that buzzes through the air like a cloud of angry bees. Whether you're an aspiring aerial photographer or a thrill-seeking life-caster, there have never been more options on the market for excellent quadcopters. Two of the best drones are so flexible you can fold them up and fit them in a backpack. We're here to help you figure out which one might be for you.
Folding drones have been around for a few years now, but only recently have they started to rival their bigger, bulkier, non-folding relatives when it comes to stability, speed, and cool features. The promise has always been that folding drones will usher in a new era of ultra-portable flying cameras for everyone. But the real game-changing moment happened when two companies joined the niche market: DJI and GoPro.
The DJI Mavic Pro ($1,000) and the GoPro Karma ($1,100) are the best folding drones for any serious pilot. They're not cheap, but they offer a similar feature set to popular quadcopters like the DJI Phantom 4 and the Yuneec Typhoon 4K. (The Yuneec Typhoon H and its six folding rotors is another great option, but it absolutely will not fit in a backpack.) There are pros and cons to both the Mavic Pro and the Karma. However, when you pit the two against each other in a ruthless battle, a clear winner emerges.
For the trekker
The obvious point of having a folding drone is that you can easily take it on adventures. Then, when you're on a remote trail or a distant beach and want to grab some quick footage of that stunning sunset, you pull the drone out of your bag and get it aloft before the perfect moment has passed. Imagining this kind of scenario, you'll realize that there are two components to any drone's portability: how easy it is to carry around and how easy it is to get in the air quickly.
Between the DJI and the GoPro folding drone models, there's a very clear winner here: the Mavic Pro. (Spoiler: the Mavic Pro's dominance will become a trend throughout this post.) The Mavic Pro folds down to a tight compact block that's roughly the size of a hearty Italian sandwich and the weight of a thick novel. The propellers also feature a clever design that lets them fold up too, so that you don't have to install them and uninstall them every time you move locations. Consequently it takes just 86 seconds to get the Mavic Pro ready to be in the air.

G/O Media may get a commission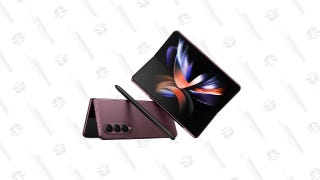 Save Up to $300
Galaxy Z Fold4
The Karma's portability is basically the opposite and took us 180 seconds to be flight ready. Completely folded, it's as big as an average-sized snapping turtle and almost as heavy. (An average-sized snapping turtle is this big.) Meanwhile, the propellers need to be installed every time you take the drone out of smaller bags—the official Karma bag can handle props—and doing the job correctly requires a little tool to tighten each one. The drone is not so much compact, as it is uniquely shaped to fit into a backpack. Nevertheless, it's not the best for trekking.

Winner: DJI Mavic Pro
For the shutterbug
If you fancy yourself an artiste, you'll be happy with both of these drones and your camera options. And if you already own a GoPro, you can actually buy the camera-free Karma package for $800 and just use your old GoPro. Obviously, the quality of your shots will depend on which model GoPro you're using. If it's the Hero5, the footage will look pretty good. Plus, the GoPro drone also comes with something called the Karma Grip that lets you transfer the camera from the quadcopter to a handheld set up. This gadget works fine. Here's an example of a still photo from the Hero5.
All that sounds cool until you remember that you have to buy a GoPro for the Karma if you don't already own one. Even then, it's a pain to attach the camera and an even bigger pain to get access to the Micro SD card, when it's time to edit your footage. On top of that, the whole gimbal setup is a little unwieldy, especially when you compare it to the ultra compact Mavic Pro camera. Then again, the perk of all these potential pain points is that you can use the GoPro like a GoPro. You can attach it to Grip handle and shoot footage while walking around, biking (careful!), snowboarding (very careful!), or driving a speedboat (okay, that's probably too dangerous, so don't do that.)
Now about that Mavic Pro camera. It shoots gorgeous images, but it's not perfect. The gimbal tends to get out of whack fairly easily, requiring constant tweaks through the DJI Go smartphone app. Worse, towards the end of my tests, it failed completely, and my only solution was to fiddle with the teeny tiny wires that connect the gimbal to the drone's guts or to contact DJI to get the camera working correctly. Nobody wants to do either of those things!
You also can't remove the camera, so you're out of luck if you wanted to, say, attach it to a stick. This is a big deal to some people. To others, it won't matter a bit.
As for image quality, the Mavic Pro images show more contrast and vibrance than the GoPro Hero5 images, but those issues can be tweaked in the settings or in post-production. (The Hero5 image above was taken on a sunny day with the default settings on.) I honesty couldn't tell a difference in terms of image quality otherwise.
Meanwhile, the camera on the GoPro Karma requires a little bit more setup, but it's a lot more versatile. Although you may fall for the rich greens in that same Mavic Pro image, you'll probably end up using the Karma hardware for a lot more than flying. These possibilities make the Karma the better option for wannabe shutterbugs.
Winner: GoPro Karma
For the daredevil pilot
Like flying your drone crazy-fast and just generally crazy? The Mavic Pro is for you. The drone features obstacle avoidance technology similar to what the Phantom 4 offers, and it works great, as long as the obstacles are in front of the quadcopter. Meanwhile, the drone's small size makes it thrillingly agile and capable of squeezing into tight spaces. It's also just plain fun to fly.
The Karma is not fun to fly. As the large size and weight would suggest, it's sluggish in the air and not graceful when avoiding obstacles. That's because it doesn't have any obstacle avoidance technology, so you're probably going to crash it at some point, and when you do, every single one of those hard-to-install rotors will break. God, and as if it couldn't get any worse, the Karma's GPS doesn't work as well as the Mavic's does. That means if you lose a GPS signal, the drone will float around the air aimlessly.

Winner: DJI Mavic Pro
For the absent-minded pilot
One of the coolest drone innovations in recent years has been the introduction of a whole host of autonomous flight features. The Mavic Pro has a ton of them. These so-called "intelligent flight modes" include the ability to set waypoints for custom routes as well as set a point of interest and let the drone orbit that spot while keeping it centered in the frame. Coolest of all is a follow-me mode that let's the Mavic Pro, well, follow you as you ride your dirt bike or whatever. That's just to name of a few of these cool features.
The Karma Pro's autonomous flight features are more limited. There's no follow me option, although there are four "auto flight paths," including the ability to do a dronie and an orbit around a subject. You shouldn't expect the GoPro Karma to film you snowboarding down a mountain, though.
Winner: DJI Mavic Pro
The Champion
Ladies and gentlemen, it's practically a landslide. The Mavic Pro is the best folding drone on the market. Not only does it work better than the Karma do more than the Karma, but it's also $100 cheaper than the Karma, if you don't already own a GoPro. Even if you do own a GoPro, spend the extra coin and get the Mavic Pro. The gimbal can be finicky, but ultimately it's stunning.
Correction: This post original stated that the GoPro Karma didn't have any autonomous flight features. In fact, it has four, but there are no follow me tracking modes. We've updated the text to reflect this.
---
Video shot by Mandy Mandelstein; Edited by Melissa Murray; Hosted by Mike Nuñez and Adam Clark Estes