There's tons of info about the new apes in Dawn of the Planet of the Apes. Tricia Helfer is returning to Syfy. A new castmember joins the Marvel cartoon Big Hero 6. The writer of Frequently Asked Questions About Time Travel is joining Doctor Who. Spoilers now!
Deadly Mississippi Tornado Kills More Than 2 Dozen | Extreme Earth
Top image: The Dawn of the Planet of the Apes
Sinister Six
Despite the fact that a movie extra seems to indicate that the titular Sinister Six will be Green Goblin, Dr. Octopus, the Rhino, the Vulture, Mysterio and Kraven, the latest rumors say that Sony and director Drew Goddard haven't actually settled on a final line up yet. Those six we saw? Just possibilities. The Wrap says the script isn't finalized, but that they've been told production could start in January of 2015. [The Wrap]
---
Dawn of the Planet of the Apes
The film has humanity reduced in size and power due to the simian flu, with the apes living peacefully in their own city, north of the Golden Gate Bridge. Malcolm (Jason Clarke) who wants peace but Dreyfus (Gary Oldman) plots to destroy it, leading to all-out war.
G/O Media may get a commission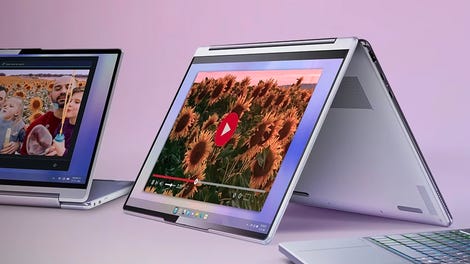 up to 70% off
Lenovo Spring Clearance
At a screening of new footage, it was revealed that the actors in motion-capture suits were more active on location (as opposed to being restricted to sound stages) this time around. Of those other actors, MTV has nothing but praise:
But [Andy Serkiss is] not the only star: the angry Koba (Toby Kebbell) has a prominent role to play as Caesar's greatest ally, and orangutan Maurice (Karin Konoval) is so life-like, it's scary.
Tons more details at the link. [MTV]
---
New Babylon
Director Patrick Tatopoulos (Underworld: Rise Of The Lycans) will direct New Babylon, an original film from Hydra Entertainment. Said Tatopoulos:
We have some very ambitious ideas for the world, characters and story of this movie, and I can already see that the innovative virtual design and story development techniques being employed at Hydra are going to make all the difference in exploring those concepts and putting them on screen in a visually stunning way.
[Deadline]
---
Lucy
Here's a new photo of Scarlett Johansson in Luc Besson's drug-induced superpowers movie. [Sci Fi Now]
---
Transformers 4: Age of Extinction
Here are two new stills, featuring Li Bingbing's head of the Transformers program, Su Yuemin, and Stanley Tucci's designer, Joshua. [Transformer World]
---
Not a Drop to Drink
Fickle Fish Films, Stephenie Meyer's production company, has acquired the film rights to Mindy McGinnis' novel Not a Drop to Drink. Published just last year, Not a Drop to Drink is set in a world with almost no fresh water left, and follows a young woman who has been taught to "defend her pond against every threat." [Variety]
---
Big Hero 6
The upcoming Marvel adaptation has reportedly added Jamie Chung to its voice cast, joining TJ Miller. There's no official announcement, but the credit is included in Ching's bio on NBC's site for Believe.
The animated film follows brilliant robotics prodigy Hiro Hamada, who is in the grips of a criminal plot that threatens to destroy San Fransokyo. Hiro and his best friendbot Baymax work with a reluctant team of first-time crime fighters to save the city. [Coming Soon]
---
Sharknado 3
Yes, they're making a third one. And announcing it before the second one even comes out. We'll get Sharknado 3 in 2015. [Shock Till You Drop]
---
Arrow
Harry Blackthorne says that, all season, Quentin Lance has been trying to do what's best for Starling:
I think for Lance, as tumultuous as it seems, he's actually been in a place of relative peace in his own mind. Although within the system he's been demoted, within his own mind, he knows he's done the right thing. His relationship with the Arrow is one that's better for Starling City — that's what he cares about most, other than his daughters. As skewed as the relationship is, given that he's doing it from within the system, he knows that this guy makes Starling City a better place, or certainly tries to make it a better place. As tumultuous as it's been, he's actually been in a much better place than he was last season.
And as for what he'd like to see next season, Blackthorne refuses to speculate. Although he does have one request:
I don't really think about what I would like to see so much, because to be honest, what these guys come up with episode after episode, now beginning to be season after season, it's fantastic — seeing where they take the story, the characters, the development, all around. I just look forward to seeing those pages each week when the new script comes out. It's always pretty interesting.

Having said that, I think Lance could do with a woman in his life, don't you?

---
Ascension
In addition to the other shows announced yesterday, Syfy will also air a six-hour series called Ascension in November. It stars Tricia Helfer as Viondra Denniger, a "not-so-secret power broker aboard a starship with a mysterious mission." Here's the description of the show:
In 1963, the U.S. government launched a covert space mission sending hundreds of men, women and children on a century-long voyage aboard the starship Ascension to populate a new world. Nearly 50 years into the journey, as they approach the point of no return, the mysterious murder of a young woman causes the ship's population to question the true nature of their mission.
---
Killjoys
Syfy and Canada's Space channel have partnered to produce Killjoys, from Orphan Black producer Temple Street Productions. It follows three interplanetary bounty hunters "sworn to remain impartial" as they chase down warrants in a distant system. [The Hollywood Reporter]
---
Doctor Who
Two new writers have been named for season eight: Peter Harness (Wallander, Frankie Howerd: Rather You Than Me, and Case Histories) and Jamie Mathieson (Frequently Asked Questions About Time Travel). [Blogtor Who]
---
The 100
Here's a video interview with Lindsey Morgan, who says that the priority of the show is getting in touch with the Ark. [K Site TV]
And here's a poster:
---
In the Flesh
Here's Luke Newberry talking about Kieran's relationships with new characters and how he's changed between seasons 1 and 2:
With Simon (Emmett Scanlan) it's suspicious. Kieren feels better about himself after the first series, and then Simon appears, and he's so at ease with being PDS. He doesn't care, doesn't mousse-up, and [Kieren's] a little intimidated by that. Suddenly Kieren doesn't know what his role is; his best friend (Amy) comes back and she is in love with Simon, and there's this weird triangle that forms.

With (sister) Jem, he's got really really close now and it's back to the relationship before he died. It was so heartbreaking that they were so close and then there's this horrible 'alien in the house' kind of feeling. Now they're really tight again.

It's intense, but in a different way. Last series was coming to terms with everything and having all these emotional confrontations with family, whereas this is 'how does Kieren deal with all these new scenarios knocking him off course all the time?', people coming in and messing things up. Because it's a longer series you get to see a few different colours of Kieren. And the new characters reveal different things about him; new sides to Kieren.
And here's Wunmi Mosaku describing her character, Maxine:
Maxine's a Victus MP, she's been voted in for the whole of Roarton and she's pro-life. Politically [the Victus party] is starting off a scheme nationally; a PDS give-back scheme. They're getting all the PDS sufferers to work, to 'volunteer' to pay back their debt.

She's a politician, so she has to be welcoming to all. But even the most conservative, right-wing politicians still try and be accessible, don't they, regardless of their policies. She's been taught how to be a good politician; how to be welcoming and encompassing, but I don't know if that actually comes across.

I think the thing about new politicians now is the younger generation are trying to be more accessible, more empathetic, and the days of gestures and such aren't prevalent. Maxine's trying to be accessible and modern. But she's chosen a party that's pro-life because she doesn't agree with re-integrating [PDS sufferers] completely into society.
---
The Returned
Get ready to be confused: A&E will be making an English-languge version of the French series Les Revanants ("The Returned"). This is in no way related to ABC's Resurrection, which is based on a book by Jason Mott. Called The Returned. But these series do all follow small towns reacting to the return of their dead. Here's a chart to help you out. From the official press release:
A&E Network has given the greenlight to ten episodes of the new original scripted drama series "The Returned," a co-production of A+E Studios and FremantleMedia North America. Carlton Cuse ("Bates Motel") wrote the first episode, and he and Raelle Tucker ("True Blood") will write and executive produce the series. Casting will begin immediately. The announcement was made today by David McKillop, General Manager and Executive Vice President of A&E Network.

"The Returned" is based on the popular and International Emmy®-award winning French suspense series adapted by Fabrice Gobert and inspired by the feature film, Les Revenants, directed by Robin Campillo. "The Returned" focuses on a small town that is turned upside down when several local people, who have been long presumed dead suddenly reappear, bringing with them both positive and detrimental consequences. As families are reunited, the lives of those who were left behind are challenged on a physical and emotional level. Interpersonal relationships are examined with intrigue and depth as strange phenomena begin to occur.

"'The Returned' has the potential to be one of the most compelling drama series on cable, thanks to phenomenal scripts written by Carlton and Raelle," said McKillop. "We look forward to seeing their vision brought to life on screen."

Commented Thom Beers, CEO, FremantleMedia North America, "'Les Revenants' has proven to be both a critical and commercial success worldwide and we couldn't be more excited to partner with A&E on this adaptation. Carlton and Raelle, the creative forces behind such fantastic television as 'Lost' and 'True Blood,' are the perfect combination to bring this complicated and provocative family drama to US audiences."

"The Returned" is co-produced by A+E Studios and FremantleMedia North America in association with Haut et Court TV SAS, the producer of the French series, for A&E Network. Executive producers are Carlton Cuse for Carlton Cuse Productions, Raelle Tucker for Angry Annie Productions and Thom Beers, Craig Cegielski and Stefanie Berk for FremantleMedia North America. FremantleMedia will distribute the series internationally, excluding the U.S. and Canada, which will be distributed by A+E Studios.
---
Revolution
Giancarlo Esposito hinted at what's in store for Neville during the rest of this season:
For a while, I think he's going to be a rogue, he's going to be an absolute maniac because he's hurt, and he's angry. But then I think you're gonna see him come to an understanding not only possibly of forgiveness but of a deeper understanding. Because when we lose people, we have to really go through our own lives with that person and start to see the completion of who we are. And out of that, we change. And that's what I love about the nature of what I do. And I'm hoping that Kripke and his wonderful writers capture this. They deepen the show every year, and I'm hoping it can deepen a lot more. I think it takes courage, but I'm thankful that I have this character that can really be the essence of this show and really show the human beats that we go through in our lives that we're afraid to look at.
Tracy Spiridakos talked about the Charlie/Monroe pairing and how it's changed:
I was aware [of it]. I get some tweets about; I believe it's "Charloe." [Laughs] It's really interesting that combination of [him being] the person that she's hated her whole life… At the beginning of this season, it's a mixed bag with him. He's good, he's bad, what's happening? I'm not saying which side of it I'm on. I just think that it's interesting that people picked up on the weirdness of that relationship. There's a lot of emotions involved there, especially for Charlie. She's got a lot of anger toward him and then it evolves into so many different things. It's an interesting combination of people.
[TV Line]
Below is the description for the season finale, "Declaration of Independence":
Miles, Charlie and Monroe attack the Patriots, but must come up with a new plan to prevent war between California and Texas; Aaron and Rachel's efforts to save Priscilla have unexpected consequences.
And here are video interviews from TV Equals with Elizabeth Mitchell and Stephen Collins.
---
Penny Dreadful
After the show premieres on Showtime on May 11th, the second episode will be immediately available on Showtime Anytime. [SpoilerTV]
---
Game of Thrones
Now that Daenerys has conquered the city-state of Meereen, she's going to need a throne room, and the other day Entertainment WeeklyEntertainment Weekly previewed this lavish set, atop an 800-foot pyramid. Showrunner David Benioff is quoted as saying:
[Production designer Deborah Riley] designed both the audience chamber, where it's a grand room where Dany sits on her bench, and her personal quarters at top of the pyramid — they're just gorgeous. Incredibly experienced crew people were gasping...More and more things are CG. But we've done these lavish huge sets and there something old Hollywood about that that I love. As much as we have an incredible [special effects] team, the best in the world, and we rely on them for so many things, for the actors there's something different about walking into a real environment and being in a room that has the power you're trying to convey.
More details at the link, plus below are a couple photos of the set, which we'll see in a couple weeks. [EW]
---
Continuum
Go here for more photos from episode 3.07, "Waning Moment," described thusly: "Kiera crash lands her CPS flyer during a prisoner transport and is forced to work with her enemy captive in order to survive. In the present day, the mystery of Kiera's murder is solved when Alec finds a way to recover the recording of her final moments from her CMR." [The World Goes Pop]
---
Agents of SHIELD
Here's a promo for the next episode, "Ragtag," in which "Ward 's Betrayal and HYDRA's shocking secrets are revealed as Coulson's team goes undercover on a mission that leaves no one unscathed." [Coming Soon]
Here are new cast photos. [SpoilerTV]
---
Warehouse 13
Go here for more photos from episode 5.04, "Savage Seduction." [SpoilerTV]
Additional reporting by Charlie Jane Anders and Ryan Plummer