Ever since the colossal machine tunneling under Seattle, nicknamed Bertha, was stopped in its tracks, there's been a frenzied speculation about what mysterious "object" could possibly block such a powerful machine. The answer is, at least partially, a steel pipe.
The pipe was the well casing for a 2002 groundwater study, preceding tunnel construction. While Bertha can easily chew through rock, it doesn't do so well with steel. Why the pipe was left in the ground and why officials didn't know it would be in Bertha's way is still its own mystery. Those speculating that some "piece of old Seattle" was blocking Bertha seem to be right, after all, even if the history is far more recent than they might have liked.
Update: Here's a photo of the pipe—all of 8 inches in diameter—protruding from the machine's cutterhead. Apparently, the crew had encountered pieces of metal in early December but continued tunneling until Bertha broke down. There's no plan yet for how to remove the pipe—or estimates for how long or costly the delay will be.
Sorry, steel pipe, but we might have liked you better as a mysterious object.
G/O Media may get a commission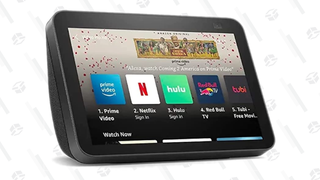 Photo courtesy of WSDOT