Karen Gillan suddenly has no idea which Avengers movie she's in. Director Doug Liman teases the Edge of Tomorrow sequel. Arrow will have at least one more flashback next season. Plus, a Wonder Woman icon may appear in the sequel, there's a ton of new behind-the-scenes footage from The Mummy, and a new clip from next week's Doctor Who. Time for spoilers!
Annihilation
Appearing on The Watch podcast, author Jeff Vandermeer claimed people would be discussing the end of the movie adaptation of his novel Annihilation for years to come.
It's actually more surreal than the novel. There are a couple places where I was like, 'I might need an anchor here.' The ending is so mind-blowing and in some ways different from the book that it seems to be the kind of ending that, like 2001 or something like that, people will be talking about around the watercooler for years. Visually, it's amazing. I must say that and that's all I probably should say.




---
Edge of Tomorrow 2

Appearing on the Happy Sad Confused podcast, Doug Liman revealed the sequel picks up exactly where the first left off, and will complete a "two-movie franchise."
I see this as a two-movie franchise; there's the completion of the story we set up in the first movie and the relationships between Tom Cruise and Emily Blunt – because, remember, at the end of the first movie, she doesn't know who he is – and that's gonna launch us into an amazing new direction. It does pick up right where we left off, but it doesn't keep going forward because we'd screw with time, because the aliens screwed with time.
G/O Media may get a commission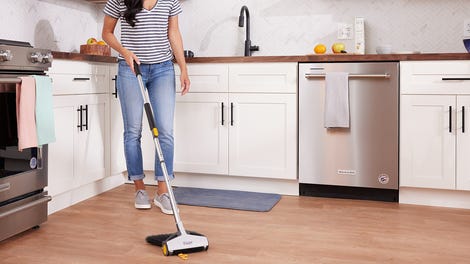 BOGO 50% Off
Flippr - BOGO 50% Off




---
The Conjuring 3
Producer Peter Safran told Cinema Blend the next Conjuring movie would not be a haunted house film.
There are some [cases] that maybe aren't as well known, but they spent a fair bit of time researching and were part of [them]. Clearly we can't do another haunted house movie, right? We can't do another supernatural possession in a house, with a family in peril. Right? So, it's got to be something different than that, I think.
---
Avengers: Infinity War
During a panel at Phoenix Comic Con, Karen Gillen revealed she has yet to read a script, and isn't sure if Nebula actually appears in Infinity War, or if they're saving her character for Avengers 4... despite the fact she's already said she'd started filming in January. [Omega Underground]
Elsewhere, an unspecified priest was deemed worthy enough to wield Thor's hammer—meaning that, perhaps unsurprisingly, the uru weapon will survive its smashing into tiny little pieces during Thor: Ragnarok.

---
Wonder Woman
Director Patty Jenkins told Yahoo! Movies the invisible jet will be incorporated in a sequel, thank Hera:

The invisible jet is very important and ultimately we have to have the invisible jet. That's a very big part of Wonder Woman.
---
The Mummy
Here's a new featurette on the film's varied shooting locations.
---
Transformers: The Last Knight
A billboard spotted in New Jersey warns your car may be a Decepticon.
---
Jurassic World 2
Universal confirmed to Jurassic Outpost that there are currently "no plans" for a teaser at the moment, because the movie is still over a year away and why on earth would you expect one now?
No plans yet for a teaser trailer. Not sure what is being shown at the London wrap party, but it's not official marketing materials.


---
Paddington 2
A teaser for the Paddington sequel has already hit the net, if that's your sort of thing.
---
Gotham
Bruce Wayne himself, David Mazouz, has confirmed to Movie Pilot that Harley Quinn will appear in the season finale.
She's going to be in the finale. Stay tuned.
---
Fear the Walking Dead
Dave Erickson told Undead Walking that his character, Daniel Salazar, is alive, and will be returning in season three:
We've said publicly that he didn't die in the fire. And I think what was always important is that the characters, specifically Ofelia (Mercedes Mason), thought they had lost him. I think his return is long overdue, and I can promise that Daniel Salazar will rise again over the course of the season.
---
Arrow
Producer Marc Guggenheim (second interview in the video below) has revealed there will be one more flashback to the island in the season six premiere.
---
Doctor Who
Finally, here's a clip of Bill and Nardole stowing away on an ocean liner under the dystopian rule of the Monks in this week's episode, "Lie of the Land."
---
Additional reporting by Gordon Jackson. Banner art by Jim Cooke.