Spider-Man: Homecoming could already have a villain. The next Wolverine film might be set in the future. Arrow's producers tease Felicity's return to the fold. Zoo casts a Warehouse 13 alum. Plus, major Ready Player One casting, new pictures from Legends of Tomorrow, and a new Game of Thrones clip. To me, my Spoilers!
Transformers 5
Production will begin on July 15th. [TFW2005]
---
Spider-Man: Homecoming
Variety is reporting that Michael Keaton is in talks to join the film as its antagonist. Although Variety doesn't mention a specific supervillain, recently Devin Faraci of Birth Movies Death reported that the Vulture would play a role in the film (Faraci also tipped the Spider-Man: Homecoming name, before Sony announced the title at Cinema Con, lending credence to the rumor). Although the Vulture might not be the main villain.
---
Underworld 5
The movie is now officially titled Underworld: Blood Wars. [Coming Soon]
---
Ready Player One
Mark Rylance is in final talks to join the film. He'll be playing James Donovan Halliday, the creator of the OASIS video game, whose death kicks off the treasure hunt that the novel initially focuses on. [THR]
G/O Media may get a commission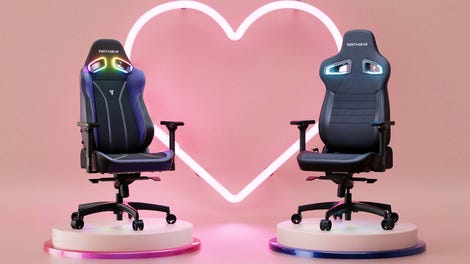 Up to $150 off
Vertagear Gaming Chairs
---
Wolverine 3
A rather nebulous comment from producer Simon Kinberg provided to Cinemablend states that the film is set in "the future". In context, the comment was in response to a question about whether or not the film would be set in the time frame of the current X-Men movies, which have taken place from the '60s to the '80s, so it might mean the movie is simply set in the present day or near future, rather than a truly futuristic setting—although that's a possibility, given Patrick Stewart's involvement as Professor X.
---
Fahrenheit 451
Ramin Bahrani is set to write and direct an adaptation of Ray Bradbury's classic dystopian novel for HBO films. [The Wrap]
---
Ant-Man and the Wasp
Another update, this time from director Peyton Reed:
We're hard at work writing the movie right now. So we've been holed up in a room, Paul Rudd, myself, Adam McKay, Gabriel Ferrari, and Andrew Barrer, who are our writers. So we're all brainstorming the story. I think the only thing I can tell you with certainty at this point, because we're still about two years away from the movie coming out, is that it's going to have stuff in it that you've never ever seen in a movie before.
---
X-Men Apocalypse
Here's a new poster for the film. [Coming Soon]
---
Doctor Strange
Speaking of which, here's a new poster for Doctor Strange.
---
Star Trek (TV Show)
Birth Movies Death reports that the new series will be set in the original continuity of the series, rather than the rebooted JJ Abrams movie universe. And it'll be well as set before the events of The Next Generation and after Star Trek VI: The Undiscovered Country. The site also claims that the series does not involve a new incarnation of the USS Enterprirse, and that despite being set after the Federation-Klingon peace treaty of the Khitomer Accords, the show would feature a group of villainous Klingons.
Interestingly BMD also notes that the series will be a "seasonal anthology", meaning that the show could jump to different time periods and casts every season.
---
Arrow
Wendy Mericle says that the death of Laurel could bring Felicity back to team Arrow:
She could come back to the team and that does not mean that she's back together with Oliver.

We started off this season with Felicity really wanting to come back and do this because she herself enjoys this kind of vigilante lifestyle, but that is separate from Oliver. In [season 4's premiere], he didn't want to; it was more about her making herself happy than anything else. So she'll be grappling in some ways with that.
Meanwhile Marc Guggenheim once again re-clarifies that Laurel's death was not due to the Oliver/Felicity relationship:
We never had to kill Laurel to make Oliver and Felicity a couple. That is really independent from the romantic history that Oliver and Laurel had, and a completely different set of dynamics.
[TV Line]
---
Wayward Pines
M. Night Shyamalan says that the show will run for three seasons:
I think we can say it's a three-season story. If we get the opportunity to tell the third and final season, we can finish the story.
[/Film]
---
The Flash
Teddy Sears teases the show's revelation of the man in the Iron Mask:
We reveal it in the finale — I had no clue last week. I didn't know who the guy was. I didn't even have a clue. Well, of course, now I know because we're shooting the finale and we'll get to that stuff next week. All has been revealed to me. I don't even know what to say because it's such a fun thing to me being nice and vague and untouched. I can promise that it will be revealed and it will be quite satisfying.
---
Zoo
Joanne Kelly has joined the cast. According to TV Line, she'll play Deputy Secretary of Defense Allison, who is trying to find "a solution to the animal crisis" and has a mysterious history with Billy Burke's character, Mitch.
---
Legends of Tomorrow
A gallery of images from "Last Refuge" has been released—you can find more at the link. [Spoiler TV]
---
Game of Thrones
Sam looks worse for wear on the way to the Citadel in a new clip from the sixth season.
---
Additional reporting by Gordon Jackson and Charlie Jane Anders. Banner Art by Jim Cooke.

Image: Star Trek Beyond.