Did you know that yesterday was Science Fiction And Fantasy Writers Day? Neither did we. But apparently there's a new movement to celebrate SF authors on June 23. Just next year, give us a heads-up?
Deadly Mississippi Tornado Kills More Than 2 Dozen | Extreme Earth
The new day appears to be the brainchild of science fiction writer (and Liaden series co-author) Sharon Lee, along with some friends. Apparently they chose the date because June 23 is the day when Cyrano de Bergerac made his first fictional journey to the Moon. According to the Facebook page, yesterday was
Science Fiction and Fantasy Writers Day! A day of celebration and wonder! A day for all of us readers of science fiction and fantasy to reach out and say thank you to our favorite writers. A day, perhaps, to blog about our favorite sf/f writers. A day to reflect upon how written science fiction and fantasy has changed your life.
We'll definitely help spread the word about this day next year, especially if we get some advance notice. This time around, one person lit a candle in memory of A.E. Van Vogt, another person wrote some fantasy, and Lee celebrated the SF books that had made a difference in her life.
Of course, Science Fiction And Fantasy Writers Day is going to face some stiff competition. According to this site, June 23 is already Take Your Dog To Work Day, National Columnists Day and National Pink Day. If your dog happens to be a science-fiction writer (and pink), then it'll all work out. At least they didn't try to do it on June 22, which was National Chocolate Eclair Day. Then we would have had a fight on our hands.
G/O Media may get a commission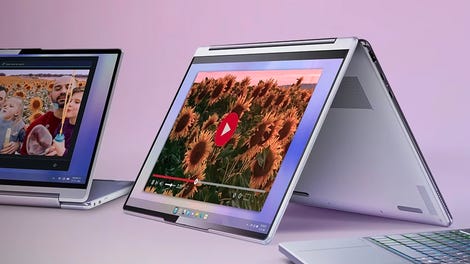 up to 70% off
Lenovo Spring Clearance
So consider this an open invitation to talk about the science fiction writers who changed your life. Or maybe what happened when you took your dog to work.