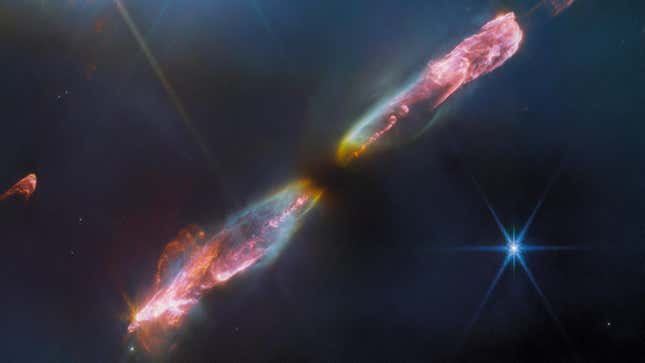 Space and the deep ocean have several commonalities, but perhaps the most obvious is the existence of structures that make you say "what the heck is THAT?"
Webb Telescope Images the Pillars of Creation
The Webb Space Telescope's latest subject—bipolar jets of material that stretch out in the inky black like the mantle of an iridescent squid—provoke that exact reaction.
The jets are collectively known as Herbig-Haro 211. They shoot outwards in opposite directions from a young star that sits about 1,000 light-years from Earth in the constellation Perseus. The protostar—not visible in the image—is only about 8% the mass of our Sun. The object was imaged by Webb's Near-Infrared Camera (NIRCam) on August 28, 2022, but the composite image from those observations was only published today.
An unedited research paper describing the star's outflows is published in Nature, in advance of its final publication. "Surprisingly, almost no trace of atomic or ionized emission is seen suggesting its spine is almost purely molecular," the researchers wrote. The team believes the object's shock waves don't have enough energy to tear apart molecules into their constituent atoms and ions.
Herbig-Haro objects are energetic regions of space where fast-moving material interacts with its surroundings, producing bright regions of ionized gas, according to the SAO Encyclopedia of Astronomy. In this image, HH 211 glows with the excited emissions of molecules like carbon monoxide, silicon monoxide, and molecular hydrogen.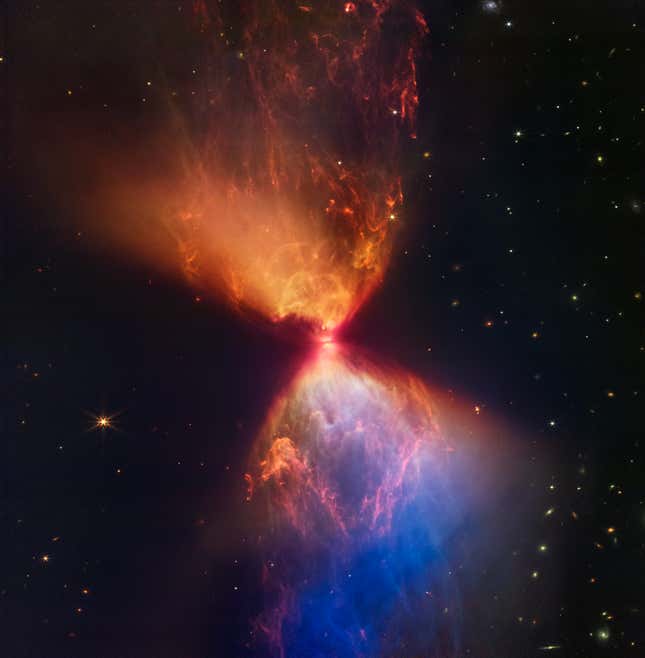 Webb is making a habit out of imaging the vibrant environments surrounding protostars; last August, scientists revealed the breathtaking hourglass-shape of L1527, a dark cloud with a protostar shining from deep within it.
The regions of the recently-imaged jets that appear to be "knotty and wiggling," as described in a Space Telescope Science Institute release, are composed of silicon monoxide. The parts of the outflow nearest to the protostar are traveling between 48 to 60 miles per second (80 to 100 kilometers per second).
Webb's remarkable resolution at infrared and near-infrared wavelengths makes Herbig-Haro 211 much clearer to see through the gas and dust that surrounds it and obscures it to other telescopes. But the object still holds secrets; for one, the unresolved protostar at its core may actually be a binary star. More observations may clarify the heart of the object, but it's never too early to bask in the jets' ethereal beauty, whatever the nature of the object that's caused them.
More: Webb Telescope Captures Stunning Protostar 'Hourglass' in Space