Early on in Egypt Urnash's Decrypting Rita, a character wonders aloud if she's just a sprite in a video game and what if she's sick of playing. But in this webcomic, she might just be on to something, and she might not be the only version of herself that exists in video gaming multiverse.
The titular Rita is a former dancer mourning her best friend, Kim, who killed herself after a bout of maudlin philosophizing. In a different reality, a different Rita is an acrobatic cyborg involved in all manner of of espionage and adventures. The same characters inhabit both Ritas' lives, but in different capacities. In the realistic storyline, Barrett is Rita's boyfriend while in the cyberpunk world he's a foe. Cyberpunk Kim is still alive and deeply intrigued by Rita's software systems.
Present-day Rita, who is rendered in red and gold, starts having dreams about the blue and white cyborg Rita, dreams so vivid that she is begin to obsess over them and connect them to Kim's sudden suicide. As the two realities increasingly bleed into one another, more parallel realities start to appear. One, drawn in shades of green, tells of airborne pirates and Time Lord-esque wizards, while an orange plot follows dragons and elves from a high-fantasy setting. Cyborg Rita starts to cross into the other story lines, altering them in ways the other characters don't fully understand. So what is going on in this Rita-filled world? Are they all just video game characters? Who is playing and who is just being played?
Urnash illustrates her comic, which is told in parallel across each page, in Adobe Illustrator. Some people won't be fans of the lineless artwork, but it has the effect of making each of Rita's realities equally shadowy. No matter in which reality we encounter her, Rita is always, somehow, Rita. She's a little more vibrant here, a little sadder there, a bit bolder somewhere else, but she's always recognizable as the same character. Cyberpunk Rita feels like the star, but it's easiest to be drawn to present-day Rita, the one character who doesn't fit in a simple role. When she's not a dragon or a wizard or a spy living in a robotic body, Rita is at sea. She lives with a man who she connects with mainly out of their shared grief. She has long abandoned dance, the activity that once gave her great joy. In fact, the thing that gives her existence a jolt is dreaming that she's a super-powered cyborg.
As this present-day Rita begins to contemplate the nature of her existence, she's also starting to bring a little life back to her life. Maybe this Rita will discover that she is a video game character in the end, but that may well be the thing that saves her.
G/O Media may get a commission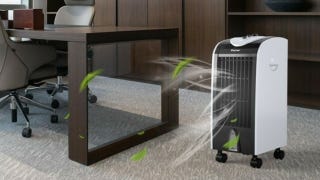 Save $10
Evaporative Portable Air Conditioner Cooler with Filter Knob