So much news passes before our collective eyes every day that we couldn't possibly cover it all. Mostly because much of it isn't worth covering! But here are a some borderline tidbits we passed on, just in case.
HP's Gonna Figure Out This webOS Thing in 2 Weeks, Honest
The HP webOS saga just keeps getting more and more frustrating and dumb and ugh, as CEO Meg Whitman again announced that the company had no announcement at this time. Well, okay, she said it in an interview. But still, people, sheesh, you're making Hamlet look decisive. And sane. [All Things D]
Woman With Cement Cheek Implant Should Probably Have Paid Retail
Things you don't want to go too budget on: sushi, escorts, plastic surgery. That should about cover it, right? [Dlisted]
G/O Media may get a commission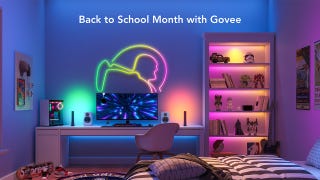 Back to School
Back to School Month with Govee Sale
Will Office on iPad Cost $10?
Will hypothetical product have hypothetical price if it's hypothetically approved, and will that hypothetically impact the pricing of existing versions of said product? You know, hypothetically speaking? [Wired]
The Unassuming Beauty of Afghanistan
Not much of a tech angle here, but this short from Augustin Pictures shows a side of Afghanistan most of us never new existed—or maybe just assumed it didn't. And just for kicks, here's the rundown of gear they used:
Canon 5D Mark II
Canon 7D
Canon 24-105mm L IS 4f
Canon 16-35mm L
Canon 50mm 1.4f
Canon 85mm 1.8f
Glidetrack HD
Handgrip Nighthawk and D|Focus V3 (shoulder mount)
Zoom H1
2x Rode Videomic Pro
Manfrotto 501 HD and 701 HDV
LCW ND Filter Fader MK II
We edited and colour graded the entire clip on Final Cut Pro X
See? Tech! [The Atlantic]
---
Left Behind is our daily collection of chaff we didn't think was quite good enough to post on its own, and why.